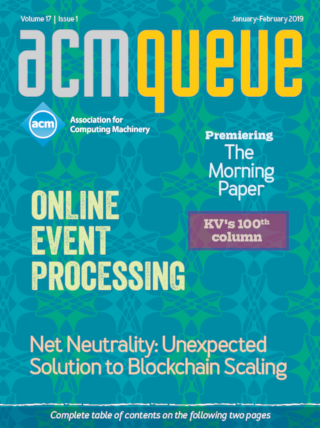 The January/February 2019 issue of acmqueue is out now

Subscribers and ACM Professional members login here

---

PDF
Error

526

Ray ID: 4bbc31867c7191ac • 2019-03-23 00:12:23 UTC
Invalid SSL certificate
Newark
Cloudflare
Working
deliverybot.acm.org
Host
Error
What happened?
The origin web server does not have a valid SSL certificate.
What can I do?
If you're a visitor of this website:
Please try again in a few minutes.
If you're the owner of this website:
The SSL certificate presented by the server did not pass validation. This could indicate an expired SSL certificate or a certificate that does not include the requested domain name. Please contact your hosting provider to ensure that an up-to-date and valid SSL certificate issued by a Certificate Authority is configured for this domain name on the origin server. Additional troubleshooting information here.



Originally published in Queue vol. 2, no. 2—
see this item in the ACM Digital Library
---
Related:
Latanya Sweeney - Discrimination in Online Ad Delivery
Google ads, black names and white names, racial discrimination, and click advertising
Ryan Barrows, Jim Traverso - Search Considered Integral
A combination of tagging, categorization, and navigation can help end-users leverage the power of enterprise search.
Ramana Rao - From IR to Search, and Beyond
Searching has come a long way since the 60s, but have we only just begun?
Mike Cafarella, Doug Cutting - Building Nutch
Search engines are as critical to Internet use as any other part of the network infrastructure, but they differ from other components in two important ways. First, their internal workings are secret, unlike, say, the workings of the DNS (domain name system). Second, they hold political and cultural power, as users increasingly rely on them to navigate online content.
---
Comments
(newest first)
I just find out of the existence of DuckDuckGo today and I am excited about the new possibilities outside of Google. Now, searching info about DuckDuckGo, I found info as well on Gigablast. This is how I got to read the whole interview above with great interest. It's like coming out of the dark age to read such refreshing info about search tools. I knew something was wrong with Google in spite of it's popularity, but I thought that there was no viable alternative. I still have not check DuckDuckGo or Gigablast, but the one thing I found really interesting is the privacy issue and the problem with the personalize searching feature of Google. Google is not there to really help you in your search, and now I know that they have other agendas with the data collections, collusion with companies and governments, etc. Another big problem I have with google is that their result give us either too much results or nothing. Their advanced search is buried now and their search help too complicated. It's like Facebook and other tools, their default is serving them not the common people. The only thing that prevent that huge search tool to go down is the none information about the alternatives. But, the internet being an information spreader with Twitters and Facebook, etc., it's just a matter of time that the quality will eventually win over quantity. People are still impress with the huge amount of data in Google results, but is it really relevant ? Often, a link make me jump to another subject and I get to loose precious time away from my first search. Google seem to encourage that with these advertises, links, etc. The sky is the limit and the competition should be wide open, because I am sure that there's a lots of people out there who are unsatisfied with google. They are just waiting for a tool that really feels their needs plus with more respect for their privacy. Too many companies dismiss the value that people put on privacy. People are just not aware enough about how their privacy is very low in the priority for many companies. The big scandal in the US with the NSA scooping peoples information unlawfully, is just the beginning of a major waking up ! People will ask more and more for quality search results with the privacy they deserve. Listen to what the people really need and if you really serve the people, time will be on your side to compete with google. Google is like the Titanic to me, it has already hit the iceberg and it's just a matter of time before it will fall. I am so glad that I will start to look for alternate tools, because I was really not happy with their ' too much too little results' and their unacceptable collusion with companies against our privacies! Also their personalized search results is outrageous to me ! I'm jumping of the Titanic for sure right now. Thanks for the hope of alternatives you gave me. Have a great day ! ( N.B. Please excuse my English, since I'm French)
---
---


© 2018 ACM, Inc. All Rights Reserved.