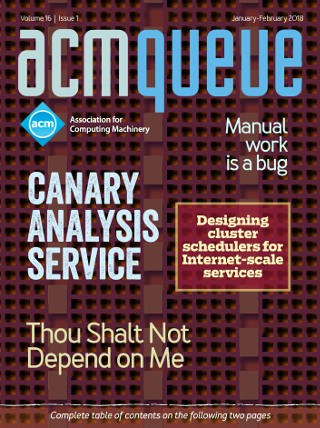 The January/February issue of acmqueue is out now
---

PDF
ITEM not available



Originally published in Queue vol. 11, no. 3—
see this item in the ACM Digital Library
---
Related:
Ryan Barrows, Jim Traverso - Search Considered Integral
A combination of tagging, categorization, and navigation can help end-users leverage the power of enterprise search.
Ramana Rao - From IR to Search, and Beyond
Searching has come a long way since the 60s, but have we only just begun?
Mike Cafarella, Doug Cutting - Building Nutch
Search engines are as critical to Internet use as any other part of the network infrastructure, but they differ from other components in two important ways. First, their internal workings are secret, unlike, say, the workings of the DNS (domain name system). Second, they hold political and cultural power, as users increasingly rely on them to navigate online content.
Anna Patterson - Why Writing Your Own Search Engine Is Hard
There must be 4,000 programmers typing away in their basements trying to build the next "world's most scalable" search engine. It has been done only a few times. It has never been done by a big group; always one to four people did the core work, and the big team came on to build the elaborations and the production infrastructure. Why is it so hard? We are going to delve a bit into the various issues to consider when writing a search engine. This article is aimed at those individuals or small groups that are considering this endeavor for their Web site or intranet.
---
Comments
(newest first)
Someone should look into which sites are approved and rejected by Adsense. You may find some interesting patterns among sites considered "valuable" (those making a profit) and those deemed unsuitable for Adsense monetization. This is done under the guise of keeping advertisers from "risk" but really some quality sites are getting rejected and some very bad ones are getting approved. Their TOS and Compliance can be used to easily disqualify a publisher, or keep them in limbo...as they don't have to explain termination, and refuse to divulge why they release you from their program. (citing trade secrets) It may seem rather innocent, but when you figure that your competitors are allowed to monetize niches and you are not, it gives a competitive advantage to some. If they feel you violated their terms, they don't have to explain anything and can shut all of your accounts down and not pay any funds due to you. No due process, no explanation. Google and Facebook both should not be trusted in my opinion.
---
---


© 2018 ACM, Inc. All Rights Reserved.