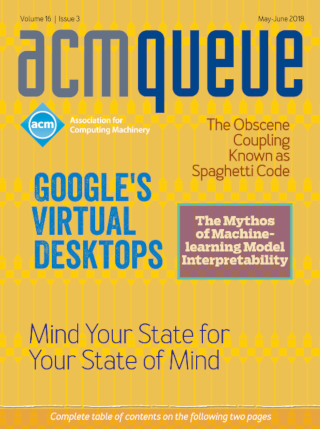 The May/June issue of acmqueue is out now

---

PDF
ITEM not available



Originally published in Queue vol. 13, no. 9—
see this item in the ACM Digital Library
---
Related:
Andrew Leung, Andrew Spyker, Tim Bozarth - Titus: Introducing Containers to the Netflix Cloud
Approaching container adoption in an already cloud-native infrastructure
Marius Eriksen - Functional at Scale
Applying functional programming principles to distributed computing projects
Philip Maddox - Testing a Distributed System
Testing a distributed system can be trying even under the best of circumstances.
Mark Kobayashi-Hillary - A Passage to India
Most American IT employees take a dim view of offshore outsourcing. It's considered unpatriotic and it drains valuable intellectual capital and jobs from the United States to destinations such as India or China. Online discussion forums on sites such as isyourjobgoingoffshore.com are headlined with titles such as "How will you cope?" and "Is your career in danger?" A cover story in BusinessWeek magazine a couple of years ago summed up the angst most people suffer when faced with offshoring: "Is your job next?"
---
Comments
(newest first)
---


© 2018 ACM, Inc. All Rights Reserved.