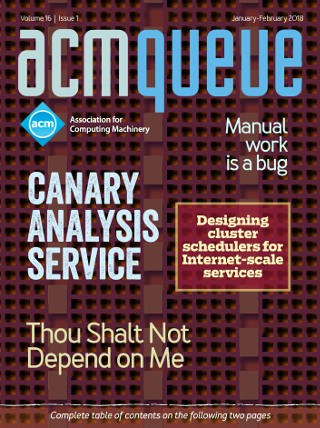 The January/February issue of acmqueue is out now
---

PDF
ITEM not available



Originally published in Queue vol. 13, no. 3—
see this item in the ACM Digital Library
---
Related:
Pat Helland - Life Beyond Distributed Transactions
An apostate's opinion
Ivan Beschastnikh, Patty Wang, Yuriy Brun, Michael D, Ernst - Debugging Distributed Systems
Challenges and options for validation and debugging
Sachin Date - Should You Upload or Ship Big Data to the Cloud?
The accepted wisdom does not always hold true.
George Neville-Neil - Time is an Illusion.
Lunchtime doubly so. - Ford Prefect to Arthur Dent in "The Hitchhiker's Guide to the Galaxy", by Douglas Adams
---
Comments
(newest first)
I enjoyed reading this article. It soothes my frustration with papers that use global (logical) time for their definitions (e.g. the use of "simultaneous" to define deadlocks, mutual exclusion, etc.); to me, a theory or an algorithm that is based on a dodgy concept is surely bug-prone.
As you said, relativity isn't the problem here, since the issue arises even on a chip, where signals take many cycles to travel between cores and caches. A read or write operation therefore has a time spread at a core that is different from that at a cache, but this difference remains missing from most papers on sequential consistency, linearizability, etc.
I hope you have better luck nudging people off the global time concept.
---
Very interesting article. Thank you.
For another system that deals with the "Now" problem, operating in an even more extreme environment, yet still reaching distributed consensus, have a look at Bitcoin. Granted, it doesn't reach consensus in milliseconds, rather on the order of 10 minutes, but interesting nonetheless.
---
---


© 2018 ACM, Inc. All Rights Reserved.