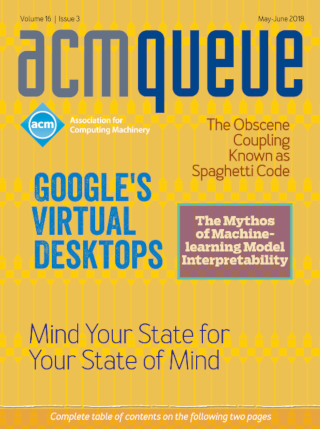 The May/June issue of acmqueue is out now

---

PDF
ITEM not available



Originally published in Queue vol. 16, no. 3—
see this item in the ACM Digital Library
---
Related:
Erik Meijer - Making Money Using Math
Modern applications are increasingly using probabilistic machine-learned models.
Spence Green, Jeffrey Heer, Christopher D. Manning - Natural Language Translation at the Intersection of AI and HCI
Old questions being answered with both AI and HCI
Jeff Barr, Luis Felipe Cabrera - AI Gets a Brain
New technology allows software to tap real human intelligence.
Alexander Nareyek - AI in Computer Games
If you've been following the game development scene, you've probably heard many remarks such as: "The main role of graphics in computer games will soon be over; artificial intelligence is the next big thing!" Although you should hardly buy into such statements, there is some truth in them. The quality of AI (artificial intelligence) is a high-ranking feature for game fans in making their purchase decisions and an area with incredible potential to increase players' immersion and fun.
---
Comments
(newest first)
I believe this article has some flaws. I have written a rejoinder at https://ahmaurya.quora.com/On-the-Interpretability-of-Linear-Regression-Rejoinder-to-The-Mythos-of-Model-Interpretability tl;dr "The paper's claims against the interpretability of linear models are based on evidence that is incorrect and lacks crucial context from disciplines other than computer science. It potentially stems from the simplistic view that computer science has of linear regression as just a prediction machine."
---
---


© 2018 ACM, Inc. All Rights Reserved.