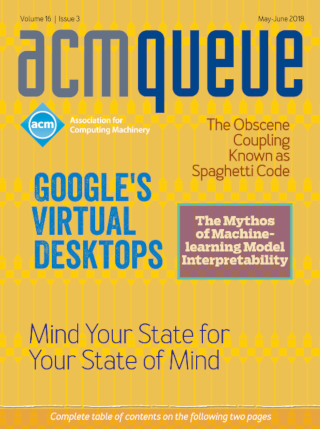 The May/June issue of acmqueue is out now

---

PDF
ITEM not available



Originally published in Queue vol. 11, no. 8—
see this item in the ACM Digital Library
---
Related:
Jez Humble - Continuous Delivery Sounds Great, but Will It Work Here?
It's not magic, it just requires continuous, daily improvement at all levels.
Nicole Forsgren, Mik Kersten - DevOps Metrics
Your biggest mistake might be collecting the wrong data.
Alvaro Videla - Metaphors We Compute By
Code is a story that explains how to solve a particular problem.
Ivar Jacobson, Ian Spence, Pan-Wei Ng - Is There a Single Method for the Internet of Things?
Essence can keep software development for the IoT from becoming unwieldy.
---
Comments
(newest first)
if you also trading ill be interested in joining you
---
I am currently stuck calculating the mean and variance estimators used to calculate beta. The article says
"At each step of the algorithm a 2 × 2 matrix Mt and a 2 × 1 vector Vt need to be saved in memory and updated with a new data point according to the following recursion....As for the mean and variance estimator, the initialization of the recursion can be done using a burn-in period."
The problem I am having is that I'm not sure what values the M and V parameters should be initialized to using a burn-in period. I am not sure what values the 2x2 matrix or the 2x1 vector should be.
---
Why, when measuring volatility, they calculate the standard deviation instead of just using the variance? They lose time while calculating the square root.
---
Name of the Author, Loveless... tai diao le
---
---


© 2018 ACM, Inc. All Rights Reserved.