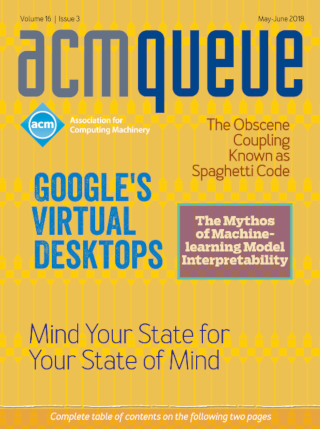 The May/June issue of acmqueue is out now

---

PDF
ITEM not available



Originally published in Queue vol. 11, no. 7—
see this item in the ACM Digital Library
---
Related:
Bill Hsu, Marc Sosnick-Pérez - Realtime GPU Audio
Finite difference-based sound synthesis using graphics processors
David Bacon, Rodric Rabbah, Sunil Shukla - FPGA Programming for the Masses
The programmability of FPGAs must improve if they are to be part of mainstream computing.
Andrew Danowitz, Kyle Kelley, James Mao, John P. Stevenson, Mark Horowitz - CPU DB: Recording Microprocessor History
With this open database, you can mine microprocessor trends over the past 40 years.
Alexandra Fedorova, Sergey Blagodurov, Sergey Zhuravlev - Managing Contention for Shared Resources on Multicore Processors
Contention for caches, memory controllers, and interconnects can be alleviated by contention-aware scheduling algorithms.
---
Comments
(newest first)
When it comes to reclaiming node local memory, wouldn't it be useful to consider moving the pages in question to other nodes instead of discarding them (in case of unmapped cache pages) or paging them out (in case of dirty anonymous pages) as long as the memory utilization on any other node is lower than on the current node ?
---
Thank you.
---
Thank you Dr. Lameter for the easy to understand elucidation. My brain wasn't NUMA aware before reading this article and now it is happy and NUMA aware. This article will help me visualize the underlying memory model while writing applications for multiprocessor architectures.
---
---


© 2018 ACM, Inc. All Rights Reserved.