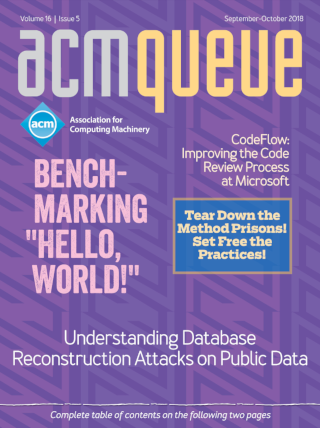 The September/October issue of acmqueue is out now

Subscribers and ACM Professional members login here

---

PDF
Error

526

Ray ID: 47c896fc198e21c8 • 2018-11-20 05:41:50 UTC
Invalid SSL certificate
Newark
Cloudflare
Working
deliverybot.acm.org
Host
Error
What happened?
The origin web server does not have a valid SSL certificate.
What can I do?
If you're a visitor of this website:
Please try again in a few minutes.
If you're the owner of this website:
The SSL certificate presented by the server did not pass validation. This could indicate an expired SSL certificate or a certificate that does not include the requested domain name. Please contact your hosting provider to ensure that an up-to-date and valid SSL certificate issued by a Certificate Authority is configured for this domain name on the origin server. Additional troubleshooting information here.



Originally published in Queue vol. 11, no. 6—
see this item in the ACM Digital Library
---

Follow Kode Vicious on Twitter


and Facebook



Have a question for Kode Vicious? E-mail him at [email protected]. If your question appears in his column, we'll send you a rare piece of authentic Queue memorabilia. We edit e-mails for style, length, and clarity.

---
Related:
Alpha Lam - Using Remote Cache Service for Bazel
Save time by sharing and reusing build and test output
Jez Humble - Continuous Delivery Sounds Great, but Will It Work Here?
It's not magic, it just requires continuous, daily improvement at all levels.
Nicole Forsgren, Mik Kersten - DevOps Metrics
Your biggest mistake might be collecting the wrong data.
Alvaro Videla - Metaphors We Compute By
Code is a story that explains how to solve a particular problem.
---
Comments
(newest first)
-----BEGIN PGP SIGNED MESSAGE----- Hash: SHA1
context: comment on the article "Columns > Kode Vicious - The Naming of Hosts is a Difficult Matter" (by George Neville-Neil on June 1, 2013) (http://queue.acm.org/detail.cfm?id=2493946) on http://queue.acm.org (ACM Queue)
"If people weren't involved, hosts could simply be identified by their Internet addresses"
On the contrary, I know of multiple companies where all the employees refer to the machines they commonly use by IP address, which of course has the advantage that the behemoth that is DNS is not involved. In groups where everyone is in the same subnet, they refer to machines by the last digit of the IP address, e.g "123" would mean 192.168.0.123. In groups where there are multiple subnets, they may say "5.123" for 192.168.5.123 or "4.123" for 192.168.4.123. Indeed, this sounds silly, but I consider it just as silly as using hostnames.
For all practical purposes within the companies I am not ashamed to be part of, we've been able to use tor hidden services successfully, which means there is no issue of IP/name conflict, and the service is globally unambiguously identifiable (e.g 3g2upl4pq6kufc4m.onion). You don't even need to care which machine the service is on. Naming (e.g a bookmark in the web browser, possibly with tags instead of bothering with a name) is then done on an ad-hoc, as-needed basis; humans have the natural ability to coordinate names for things as they need to. Tor hidden services superscede DNS, TLS, and that sort of thing. Then again, if you're a typical IT admin you're probably stuck with silly things (e.g email) which are intertwined with DNS - I'm empathetic. -----BEGIN PGP SIGNATURE----- Version: GnuPG v2.0.20 (GNU/Linux)
iEYEARECAAYFAlH9nk0ACgkQ3PGpByoQpZHq5wCglBvcwgcMUQqR7lyskj8nJDPz 4S0Anill/u4Plp6a6xh0NsQEj4XL+cit =M/yV -----END PGP SIGNATURE-----
---
---


© 2018 ACM, Inc. All Rights Reserved.