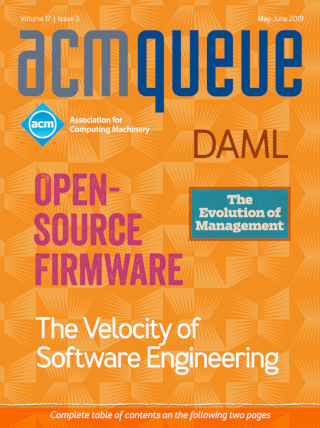 The May/June 2019 issue of acmqueue is out now

Subscribers and ACM Professional members login here

---

PDF
Error

526

Ray ID: 4fb3d2bc88aa9222 • 2019-07-24 06:26:33 UTC
Invalid SSL certificate
Newark
Cloudflare
Working
deliverybot.acm.org
Host
Error
What happened?
The origin web server does not have a valid SSL certificate.
What can I do?
If you're a visitor of this website:
Please try again in a few minutes.
If you're the owner of this website:
The SSL certificate presented by the server did not pass validation. This could indicate an expired SSL certificate or a certificate that does not include the requested domain name. Please contact your hosting provider to ensure that an up-to-date and valid SSL certificate issued by a Certificate Authority is configured for this domain name on the origin server. Additional troubleshooting information here.



Originally published in Queue vol. 10, no. 4—
see this item in the ACM Digital Library
---
Related:
Christoph Lameter - NUMA (Non-Uniform Memory Access): An Overview
NUMA becomes more common because memory controllers get close to execution units on microprocessors.
Bill Hsu, Marc Sosnick-Pérez - Realtime GPU Audio
Finite difference-based sound synthesis using graphics processors
David Bacon, Rodric Rabbah, Sunil Shukla - FPGA Programming for the Masses
The programmability of FPGAs must improve if they are to be part of mainstream computing.
Alexandra Fedorova, Sergey Blagodurov, Sergey Zhuravlev - Managing Contention for Shared Resources on Multicore Processors
Contention for caches, memory controllers, and interconnects can be alleviated by contention-aware scheduling algorithms.
---
Comments
(newest first)
Displaying 10 most recent comments. Read the full list here
Your research provide one with useful information for my study.So I want original data what is figure 9 "How power should have scaled".Would you send the data to this e-mail address?
---
http://cpudb.stanford.edu/
---
I see an aritcle here related to such a cpu spec database, I can see no link linking me to said database ? or am I blind ?
---
Hi There, Could you please let me know where is SPECfp2006 equivalent score is in the processor database? I'm refering to the value that is mentioned above in the Normalization of technology section you found for proecessors with other SPECs to find the equivalent in SPEC 2006(fp and int).
Thanks, Noshad.
---
@Prof. Neri, Thanks for noticing the missing figures. That has been corrected. Error notices can be sent to us directly at
[email protected]
Thanks, Matt
---
Interesting but disputable paper: processor performance independent and rational evaluation is like the sex of angels or - if you prefer - a never never land. But the attempt is valuable anyway. Two figures (14 and 15) are missing: why ? Regards
Prof. Ing. Giovanni Neri Professore Ordinario di Calcolatori Elettronici Dipartimento di Elettronica Informatica e Sistemistica Viale Risorgimento 2 40136 BOLOGNA Italy
---
I enjoyed it. Kudos to Stanford for putting this together.
---
CPU, then FPU. Now software & operating system designers are also using multiple GPUs to bypass the limits of CPUs & FPUs. Streaming, caching, predictive technologies ... so focussing on just CPU is almost meaningless now.
Retired Chief Intelligence Officer (1984) Australian Capital Territory
---
Your graphs are all wrong. These things look like they were done by a novice in the computer field who doesn't know actual details and uses only posted information. Here's 2 errors I noticed which bug me the most:
1. Power density over time, That graph is totally wrong! All of the sudden near 2006-2007 perf. per wat goes wayyyy up on the graph. (Or down depending on how one views it) The posted TDP's by intel and AMD for the last few years are incorrect and rely on thermal controls built into the CPU's. For instance, Intel lists 65W TDP for almost EVERY core 2 CPU. This is incorrect as it rely's on thermal management. The REAL TDP is no where near this low! Turn off speed step technology, (or whatever Inte/AMD wants to call it now) and you'll find it's a different ball game.
2. Your graphs/charts have exponential growth values, for example, Processor Frequency Scaling goes from 1000Mhz, to 3162Mhz, then jumps to 10,000Mhz. ??? I'm lost as to why your graphs do this, it completely distorts the data, and makes the graphs useless!
And on one last note, charts like this should ONLY be done by someone who has been in the computer industry for many, many years and knows all the dirty little secrets of chip makers and can accurately graph the data. For example, I'm extremely anal about accuracy and have been in the IT industry "professionally" since '95 and know how to accurately measure cpu performance data (you didn't even mention FPU performance! ). Someone that's not just reading articles about it, but currently has 4-5 workstations at his geeky/nerdy hands that he's tinkering with at the same time at any given moment. I'm sorry, but that's the kind of person that needs to do things like this, not whoever posted these useless graphs. Sorry.
---
May be "other" it's the real name of Motorola
---
Displaying 10 most recent comments. Read the full list here
---


© 2019 ACM, Inc. All Rights Reserved.