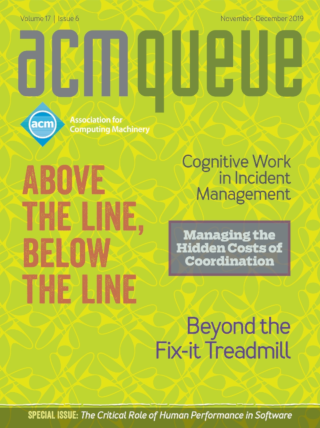 The November/December 2019 issue of acmqueue is out now

Subscribers and ACM Professional members login here

---

PDF
Item not available
---
Related:
Mendel Rosenblum, Carl Waldspurger - I/O Virtualization
Decoupling a logical device from its physical implementation offers many compelling advantages.
Scot Rixner - Network Virtualization
The recent resurgence in popularity of virtualization has led to its use in a growing number of contexts, many of which require high-performance networking. Consider server consolidation, for example. The efficiency of network virtualization directly impacts the number of network servers that can effectively be consolidated onto a single physical machine. Unfortunately, modern network virtualization techniques incur significant overhead, which limits the achievable network performance. We need new network virtualization techniques to realize the full benefits of virtualization in network-intensive domains.
Werner Vogels - Beyond Server Consolidation
Virtualization technology was developed in the late 1960s to make more efficient use of hardware. Hardware was expensive, and there was not that much available.
Tom Killalea - Meet the Virts
When you dig into the details of supposedly overnight success stories, you frequently discover that they've actually been years in the making. Virtualization has been around for more than 30 years since the days when some of you were feeding stacks of punch cards into very physical machines yet in 2007 it tipped. VMware was the IPO sensation of the year; in November 2007 no fewer than four major operating system vendors (Microsoft, Oracle, Red Hat, and Sun) announced significant new virtualization capabilities; and among fashionable technologists it seems virtual has become the new black.
---
---


© 2019 ACM, Inc. All Rights Reserved.