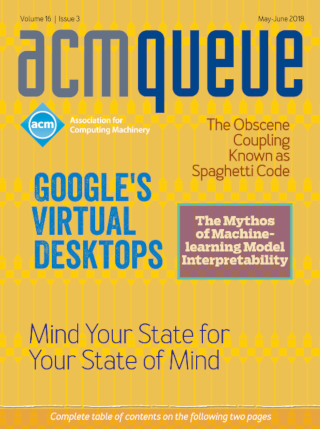 The May/June issue of acmqueue is out now

---

PDF
ITEM not available



Originally published in Queue vol. 14, no. 2—
see this item in the ACM Digital Library
---
Related:
Pat Helland - Life Beyond Distributed Transactions
An apostate's opinion
Ivan Beschastnikh, Patty Wang, Yuriy Brun, Michael D, Ernst - Debugging Distributed Systems
Challenges and options for validation and debugging
Sachin Date - Should You Upload or Ship Big Data to the Cloud?
The accepted wisdom does not always hold true.
George Neville-Neil - Time is an Illusion.
Lunchtime doubly so. - Ford Prefect to Arthur Dent in "The Hitchhiker's Guide to the Galaxy", by Douglas Adams
---
Comments
(newest first)
Get rid of the technology and start using the power of the mind.... It is instant and there are no boundries of Time Space or Distance....
---
Really nice article !
A reference to Mark Burgess work about promise theory, and particulary "In Search of Certainty" (http://markburgess.org/certainty.html) would be perfect: Mark is talking about exactly these subjects, and he used to be a brilliant astro-physician (maybe not a coincidence :)
Thanks for the read!
---
---


© 2018 ACM, Inc. All Rights Reserved.