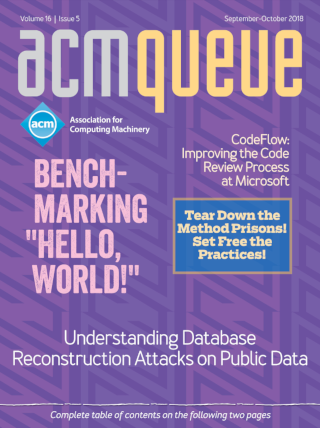 The September/October issue of acmqueue is out now

Subscribers and ACM Professional members login here

---

PDF
Error

526

Ray ID: 48a647610975c5da • 2018-12-17 03:24:48 UTC
Invalid SSL certificate
Newark
Cloudflare
Working
deliverybot.acm.org
Host
Error
What happened?
The origin web server does not have a valid SSL certificate.
What can I do?
If you're a visitor of this website:
Please try again in a few minutes.
If you're the owner of this website:
The SSL certificate presented by the server did not pass validation. This could indicate an expired SSL certificate or a certificate that does not include the requested domain name. Please contact your hosting provider to ensure that an up-to-date and valid SSL certificate issued by a Certificate Authority is configured for this domain name on the origin server. Additional troubleshooting information here.



Originally published in Queue vol. 2, no. 1—
see this item in the ACM Digital Library
---
Related:
Alpha Lam - Using Remote Cache Service for Bazel
Save time by sharing and reusing build and test output
Jez Humble - Continuous Delivery Sounds Great, but Will It Work Here?
It's not magic, it just requires continuous, daily improvement at all levels.
Nicole Forsgren, Mik Kersten - DevOps Metrics
Your biggest mistake might be collecting the wrong data.
Alvaro Videla - Metaphors We Compute By
Code is a story that explains how to solve a particular problem.
---
Comments
(newest first)
I was the first Rational Rose evangelist for Rational Software in the Asia Pacific area way back in 1997-98. I have been an active user and proponent of the UML for 15 years now. I have seen and experienced many of the symptoms that come with having the Fever. I now consider myself to be fully recovered.
Like any technology it is important to understand why, when, where and how to use it if you want to benefit from it. The following characteristics were evident in projects that I have seen benefit from using the UML:
1. Literacy. Models are both produced and consumed. Like any language for it to be effective it must be understood and the material presented within the language must be well constructed. 2. Point of truth. Models and the views they contain need to be accurate, abstract and authoritative. 3. Communication. A picture really is a thousand words. Well written supportive textual descriptions are important but if you can not get an immediate sense of things from what is shown on the diagrams then you are in trouble.
I cant imagine building a house, a building or a city without a blueprint. Any project attempting to construct a system beyond a certain threshold of size and/or complexity is at a serious disadvantage without having well constructed UML based blueprints.
As it stands today after 15 years of hands on use and application I can't imagine not using the UML. For me models are the most effective knowledge management technique software engineering teams have at their disposal for capturing, managing and exploiting shared perspectives and insights about the system or systems they build, operate and maintain. Good tooling is however critical...
---
In response to Ahmet Ekrem Saban's comment (even though it was made almost a year ago, maybe someone else will benefit from my comment), a book I've found helpful in understanding the purpose behind many of the UML diagrams is 'UML Distilled', by Martin Fowler. It's a short book and tells you pretty much all you need to know about UML until your instincts (or your process) tells you that you need to learn more.
---
Hello! Your article is good to read, making me laugh. But as an UML novice, it makes me shaky, as I only know about the illnesses concerning UML, but no remedy. Especially for my new project where we are currently in the start phase and writing documentation for a hardware with embedded software, where I am responsible for the GUI development, I do not how and how much to use UML. As the starting point, a predecessor model is used, where we are adapting the GUI of this predecessor to the new requests. My questions: 1. Where in such a case is UML modelling appropriate? The usage of the GUI menus is not described anywhere, as it is considered straightforward. Is it necessary to define all the processes just for the sake of using UML? I suppose that this would contradict with your nice article. 2. How is it possible to find out test cases through the created descriptive UML diagrams? Is UTP (UML Test Profile) appropriate?
Thanks for your reply in advance!
---
This non-scientific paper shoulg go in a journal called "acm comics"
---
The link toreference #6
6. Bittner, K. Why Use Cases are not Functions. The Rational Edge. (December 2000); http://www.therationaledge.com/content/dec_00/t_ucnotfunctions.html.
seems to be broken.
---
---


© 2018 ACM, Inc. All Rights Reserved.