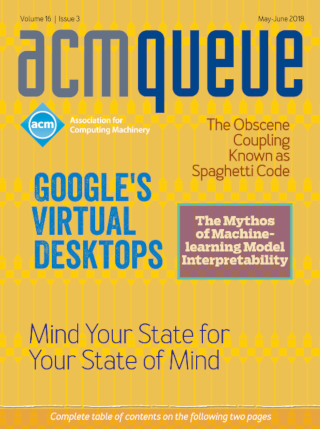 The May/June issue of acmqueue is out now

---

PDF
ITEM not available



Originally published in Queue vol. 1, no. 8—
see this item in the ACM Digital Library
---
Related:
Eric Allman - E-mail Authentication
Internet e-mail was conceived in a different world than we live in today. It was a small, tightly knit community, and we didn't really have to worry too much about miscreants. Generally, if someone did something wrong, the problem could be dealt with through social means; "shunning" is very effective in small communities.
Vipul Ved Prakash, Adam O'Donnell - Fighting Spam with Reputation Systems
User-submitted spam fingerprints
John Stone, Sarah Merrion - Instant Messaging or Instant Headache?
It's a reality. You have IM (instant messaging) clients in your environment. You have already recognized that it is eating up more and more of your network bandwidth and with Microsoft building IM capability into its XP operating system and applications, you know this will only get worse. Management is also voicing concerns over the lost user productivity caused by personal conversations over this medium. You have tried blocking these conduits for conversation, but it is a constant battle.
Frank Jania - Broadcast Messaging
This powerful form of communication has social implications as well as technical challenges.
---
Comments
(newest first)
---


© 2018 ACM, Inc. All Rights Reserved.