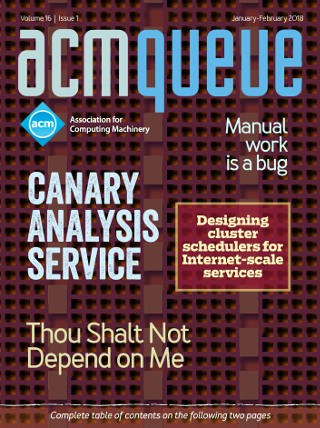 The January/February issue of acmqueue is out now
---

PDF
ITEM not available



Originally published in Queue vol. 14, no. 2—
see this item in the ACM Digital Library
---
Related:
Jez Humble - Continuous Delivery Sounds Great, but Will It Work Here?
It's not magic, it just requires continuous, daily improvement at all levels.
Nicole Forsgren, Mik Kersten - DevOps Metrics
Your biggest mistake might be collecting the wrong data.
Alvaro Videla - Metaphors We Compute By
Code is a story that explains how to solve a particular problem.
Ivar Jacobson, Ian Spence, Pan-Wei Ng - Is There a Single Method for the Internet of Things?
Essence can keep software development for the IoT from becoming unwieldy.
---
Comments
(newest first)
G'Day Zoltan,
Thanks, I think that's a good direction to explore, and have been wondering about the same layout. So (as is probably obvious) the advantages are that multiple occurrences of the same child functions can be merged, despite different paths, and that we also retain the value of linear comparisons: all boxes widths are still to the same scale (unlike, say, kcachegrind and other visualizations that use color or oval size, which are more difficult to quickly compare).
This will need to be tested with bigger profiles. It might get too messy, and stop being intuitive. Perhaps that can be improved by limiting the number of these merges (ie, limiting the number of arrows to the top most merging 5, or closer to the root only; don't want a ton of arrows to mutex_tryenter or malloc or free).
---
Brendan,
what do you think about evolving the visualization to better visualize hotspots like:
http://zolyfarkas.github.io/spf4j/images/spf4j-flame-graph.png
cheers, keep up the good work
--Z
---
---


© 2018 ACM, Inc. All Rights Reserved.