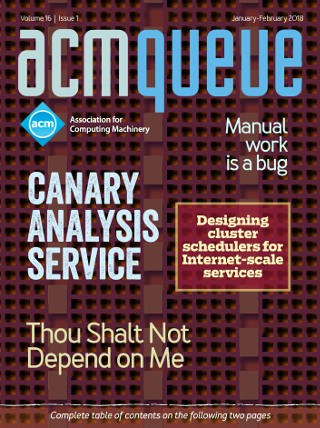 The January/February issue of acmqueue is out now
---

PDF
ITEM not available



Originally published in Queue vol. 14, no. 1—
see this item in the ACM Digital Library
---
Related:
Meng-Day (Mandel) Yu, Srinivas Devadas - Pervasive, Dynamic Authentication of Physical Items
The use of silicon PUF circuits
Nicholas Diakopoulos - Accountability in Algorithmic Decision-making
A view from computational journalism
Olivia Angiuli, Joe Blitzstein, Jim Waldo - How to De-identify Your Data
Balancing statistical accuracy and subject privacy in large social-science data sets
Jim Waldo, Alan Ramos, Weina Scott, William Scott, Doug Lloyd, Katherine O'Leary - A Threat Analysis of RFID Passports
Do RFID passports make us vulnerable to identity theft?
---
Comments
(newest first)
Mass-surveillance apologists have done a wonderful job of framing this conversation as being about encryption vs. law enforcement, or about privacy vs. safety. Yes, at a basic level, it's bad that terrorists can do things in secret. But the conflation of strong encryption with terrorism or criminality is a basic lie that pervades the entire premise of that distinction: any evidence that the NSA's mass surveillance programs or similar stopped attacks of any kind has yet to surface.
These trends of defensive government overreach are a reaction to the political engagement of people like the IETF insisting that privacy is a basic right. It's just that this particular style of engagement involves cryptography.
---
This article seems to work from a model that the only threats to one's privacy come from the legal system. It also seems to think that TLS is perceived as a tool that "solves" the problem. Both notions are wrong.
As the expression goes: "security is a process, not a product". The principle applies to privacy as well. To protect privacy the response needs to be far more comprehensive. Even ignoring the process/product issue, TLS everywhere is not perceived as a way to ensure privacy. It merely makes *mass* surveillance more difficult and costly for governmental and non-governmental organizations. For an adversary with means going after a specifically identified target, it proves largely worthless.
---
---


© 2018 ACM, Inc. All Rights Reserved.