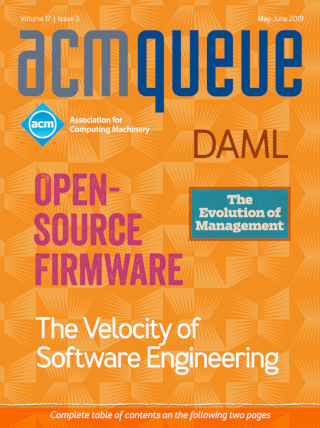 The May/June 2019 issue of acmqueue is out now

Subscribers and ACM Professional members login here

---

PDF
Error

526

Ray ID: 4fb40200efce921c • 2019-07-24 06:58:49 UTC
Invalid SSL certificate
Newark
Cloudflare
Working
deliverybot.acm.org
Host
Error
What happened?
The origin web server does not have a valid SSL certificate.
What can I do?
If you're a visitor of this website:
Please try again in a few minutes.
If you're the owner of this website:
The SSL certificate presented by the server did not pass validation. This could indicate an expired SSL certificate or a certificate that does not include the requested domain name. Please contact your hosting provider to ensure that an up-to-date and valid SSL certificate issued by a Certificate Authority is configured for this domain name on the origin server. Additional troubleshooting information here.



Originally published in Queue vol. 12, no. 7—
see this item in the ACM Digital Library
---
Related:
Russ Cox - Surviving Software Dependencies
Software reuse is finally here but comes with risks.
Natasha Noy, Yuqing Gao, Anshu Jain, Anant Narayanan, Alan Patterson, Jamie Taylor - Industry-scale Knowledge Graphs: Lessons and Challenges
Five diverse technology companies show how it's done
Ivar Jacobson, Roly Stimson - Tear Down the Method Prisons! Set Free the Practices!
Essence: a new way of thinking that promises to liberate the practices and enable true learning organizations
Alpha Lam - Using Remote Cache Service for Bazel
Save time by sharing and reusing build and test output
---
Comments
(newest first)
Displaying 10 most recent comments. Read the full list here
I've been a member for four years. I also wanted to keep myself updated with the latest research. I personally read CACM to have an idea/overview of what's going on out there but it is not that useful as I wish. What I did to fulfill that need was I subscribed to SIG of my interest and read their News Magazines with summaries of conferences and selections of the most relevant articles. I like the theoretical approach of ACM. For purely practical stuff and tools reviews I just visit a lot of good websites out there like infoq.com among others. Having a Good Source of Information now-a-days with this overwhelming amount of info out there is very important. That's where I see the ACM, as a source of info I can trust.
---
I was a member for about 30 years. It was barely relevant when I was starting out as a mainframe systems programmer and became even less so over time, seeming to completely miss the fact and realities of the internet. If I had to give a comparison ACM is AOL and the reality is Google.
---
In terms of content, I think that Rafael Anschau has the right idea - making theory approachable to hackers. This would align the best with ACM's traditional academic focus. This should be done with both regular surveys of research and deeper dives into subjects (the deepest dives would be MOOCs). Either way the material needs to be translated into language practitioners can understand.
For research, the ACM needs to require working source code published in public repositories like Github. It's incredible that you can publish a paper without showing that the concept can really be applied. Having working source code to go along with papers would be invaluable for professionals, and would increase the quality of the papers themselves.
I agree with others that a paywall runs counter to the open nature of science. To fund itself the ACM could run conferences for practitioners. This would also feed practice-oriented content into the system.
---
The environment has also changed. Most app developers just need to keep up with apis, tools, and patterns. A lot of these are vendor specific.
---
I would suggest a column like: How theory helped me in practice(I was halving a problem getting this algorithm right then I remembered Hoare´s triple, defined refined the post-conditions and solved the problem). Or: "The program was too slow, a quick analysis revealed the underlying algorithm was expensive in Big0 terms, and I found a more efficient one reading Knuth. So I changed the algorithm and got a cake at the job the next day"
I don´t think ACM should loose its theoretical approach and become a new IEEE computer(I think both associations are complementary important for the programmer). Maybe showing applications of recent theoretical results could make it more appealing in practice.
Theory is really important in practice, and I love reading columns about theoretical subjects(I am a practicing programmer) that will not be mainstream for a while, they give me the horizon of what is about to come.
Showing theory applied to practice is a good way to remain true to ACM´s founding values, while at the same time adapting to this new world of ubiquitous computing, where people learn to program before they realize the importance of theory. In fact, there lies a great opportunity for ACM: Teaching "theory appreciation for hackers! "
The book "Built to Last" by Jim Collimns is a good read for current ACM managers facing its current challenges. Basically, institutions that last remain true to their original values, while adapting mostly everything else to the uses of the time. Those are times of people programming professionally without a clear idea of what formal languages, states or algorithmic complexity are. Theory is as important to them as it is to everyone else, maybe ACM could have a few articles with this audience in mind.
Finally, this column reminds of Djkistra´s article: "On the cruelty of really teaching computing science"
"Teaching to unsuspecting youngsters the effective use of formal methods is one of the joys of life because it is so extremely rewarding. Within a few months, they find their way in a new world with a justified degree of confidence that is radically novel for them; within a few months, their concept of intellectual culture has acquired a radically novel dimension. To my taste and style, that is what education is about. Universities should not be afraid of teaching radical novelties; on the contrary, it is their calling to welcome the opportunity to do so. Their willingness to do so is our main safeguard against dictatorships, be they of the proletariat, of the scientific establishment, or of the corporate elite."
Please ACM, remain true to your values, but at the same time adapt to the uses of our age.
---
"It's about the (free) content, silly!"
I've been involved with programming for 30 years and have shipped numerous professional games on various consoles and the PC. Sadly, the ACM is largely irrelevant due to the content and articles being behind a paywall.
I would rather go to the homepage of the author of whitepapers and download their .pdf, browse stackexchange for questions (and answers), check reddit, check the GDC vault, or find the few SIGGRAPH papers that I need instead of paying to access the ACM for a _few_ articles that I need.
When so much content is available freely online, the "perceived value" of ACM is zero to me.
What can the ACM offer me that I can't find elsewhere, freely??
This problem is just systemic to the ACM. I used to read Dr. Dobbs and the C User's Journal religiously 15 years ago but now-a-days I rarely find them interesting.
What could ACM do to attract members?
By providing _complete_ source + data for whitepapers. So often I will read a whitepaper only to find there is no way to _reproduce_ the author's conclusions. This is an extremely bad practice and sloppy Science. Help bring back "accountability" and "reproducibility" to whitepapers and the ACM will again "have value."
Until then, I sadly fear it will become more irrelevant in the modern web.
Michael
---
To answer Dr Cerf's question, through RSS feeds, and occasionally CiteSeer. The ACM is generally irrelevant unless a cited paper is hosted by the ACM, at which point it becomes an active nuisance due to the paywall and other hoops.
Lapsed ACM member for over a decade.
---
I beat you: I was 9 in 1947 when ACM was founded and have been a member since Jan 1960. ACM has always been important to me almost exclusively through my activity with SIGGRAPH (1980 Conference Co chair, Executive Comm member in the late 70s and early 80s and other positions). One thing that always impressed me about SIGGRAPH and its conferences was its value to a wide range of people from researchers to artists.
I've suggested the following to several CACM editors. As a practitioner I've always been interested in a wide range of research and applications but CACM has never been able to fulfill this need. The problem has been there are too few and too long articles. My model for what I would like to see from ACM is a publication like Science News where there are many short articles which review and summarize developments in scientific research, conferences and other topics.
It has become clear to me that CACM will *never* fill this need. I haven't even looked at an issue in at least two years, but read almost every word in my copies of Science News.
---
The ACM is on the wrong side of history when it comes to open access. They seem to think about this issue more in terms of how they can persist as an institution in something like the form they had in a pre-Internet bygone era (as much as possible), rather than how they can adapt and reinvent themselves in a world that has fundamentally changed.
I say this as somebody who has been an ACM member for more than a decade (including DL access) and who actually finds a lot of the more substantive articles in CACM to be really interesting and very well-written. I cut out the best ones that I'll want to read again and must have collected at least fifty over the years. I keep my membership because I enjoy lots of the content, I use the DL regularly, and I hope for change as a new generation of folks work their way up the ranks both as members and as employees of ACM. I won't wait forever though, and probably not more than a couple years more without some significant changes.
---
+1 on Jim H.'s post. Relevance: what is the ACM for these days when we have so many other better resources available? Seems like the ACM will have to reinvent itself, or be content with doing conferences and paywalls.
---
Displaying 10 most recent comments. Read the full list here
---


© 2019 ACM, Inc. All Rights Reserved.