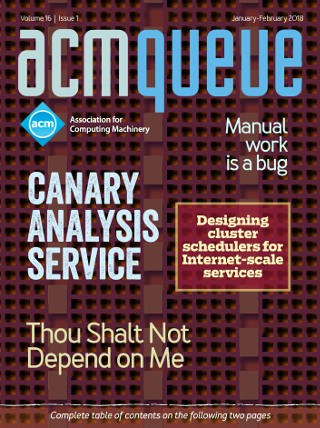 The January/February issue of acmqueue is out now
---

PDF
ITEM not available



Originally published in Queue vol. 11, no. 11—
see this item in the ACM Digital Library
---
Related:
Jez Humble - Continuous Delivery Sounds Great, but Will It Work Here?
It's not magic, it just requires continuous, daily improvement at all levels.
Nicole Forsgren, Mik Kersten - DevOps Metrics
Your biggest mistake might be collecting the wrong data.
Alvaro Videla - Metaphors We Compute By
Code is a story that explains how to solve a particular problem.
Ivar Jacobson, Ian Spence, Pan-Wei Ng - Is There a Single Method for the Internet of Things?
Essence can keep software development for the IoT from becoming unwieldy.
---
Comments
(newest first)
Your words always seem to be broad generalizations, or simply tearing down what you don't approve of (or perhaps simply don't understand). So many words with so little concrete advice that we could learn from and apply. It would be great to hear of your successes in "delivering quality software, on schedule, and within budget," as you put it.
Surely there must be something beyond "embassies"? ;-) Give us something we can use!
---
But what of those wretched souls victimized by product managers and editors so busily chasing the next deadline that they neglect the divinely ordained marriage of code writer with hapless documentation specialist. Even as code writers are destined to sin, product managers rob them of redemption by facing them towards the false light of The Next Big Thing at the expense of Users writhing in reams of false and uninspired documentation. Oh the Humanity! (Even we miserable Readers suffer from benevolent but lost graphical artists warping the Truth through falsely drawn arrows even on the very UML intended to save us -- Figure 1.) Help me, oh Countess Guide, to discover the Truth!
---
There's nothing here about guest worker visa fraud, layoffs, or the cancer of the MBA. Nor anything about the goof or slime of recruiters.
ERROR: this Inferno is not valid.
---
http://doc.cat-v.org/inferno/
---
Shouldn't there be a hideous beast at the center of The Software Inferno; a goat-legged, three headed beast chewing on Gates, Zuckerberg, and Poindexter?
---
There should be a special circle alone for the OOP crowd for all the years this philosophy has ruined cs education
---
Using UML to describe something should guarantee one a place in such an inferno.
---
---


© 2018 ACM, Inc. All Rights Reserved.