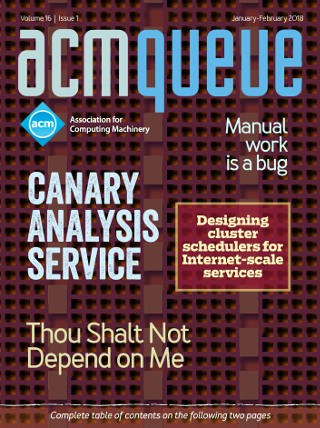 The January/February issue of acmqueue is out now
---
ITEM not available



Originally published in Queue vol. 11, no. 4—
see this item in the ACM Digital Library
---
Related:
Pat Helland - Life Beyond Distributed Transactions
An apostate's opinion
Ivan Beschastnikh, Patty Wang, Yuriy Brun, Michael D, Ernst - Debugging Distributed Systems
Challenges and options for validation and debugging
Sachin Date - Should You Upload or Ship Big Data to the Cloud?
The accepted wisdom does not always hold true.
George Neville-Neil - Time is an Illusion.
Lunchtime doubly so. - Ford Prefect to Arthur Dent in "The Hitchhiker's Guide to the Galaxy", by Douglas Adams
---
Comments
(newest first)
Mark
I read this post with a lot of interest, thank you for such a detailed example.
In reference to "assume an average input size of 256 KB per image, so that the system can process 10 conversions per second per CPU core"
I do not follow how you got 10 conversions per sec from the image size. Can you elaborate further. Thanks.
---
Referring to the full article, is the same meaning intended in the terms "...map these (business goals) into discrete services that have independent fault boundaries...," "...Decompose the business application into discrete services on the boundaries of fault domains...," "...building a distributed system requires a methodical approach to requirements along the boundaries of failure domains..." What are the definitions of "fault" and "failure" that distinguish these two terms?
---
Very insightful text. I thank you a lot for a sneak peek into what considerations must one ponder when building a distributed system.
---
---


© 2018 ACM, Inc. All Rights Reserved.