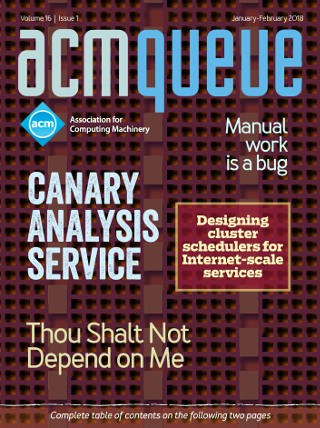 The January/February issue of acmqueue is out now
---

PDF
ITEM not available



Originally published in Queue vol. 10, no. 11—
see this item in the ACM Digital Library
---
Related:
Paul Vixie - Go Static or Go Home
In the end, dynamic systems are simply less secure.
Axel Arnbak, Hadi Asghari, Michel Van Eeten, Nico Van Eijk - Security Collapse in the HTTPS Market
Assessing legal and technical solutions to secure HTTPS
Sharon Goldberg - Why Is It Taking So Long to Secure Internet Routing?
Routing security incidents can still slip past deployed security defenses.
Ben Laurie - Certificate Transparency
Public, verifiable, append-only logs
---
Comments
(newest first)
Hi, nice article. This is exactly why we provide FREE shell and proxy services @ respiratio.net . We also recommend DNScrypt and we have obfuscated ssh, that helps with the GFW. Other features a TOR, Socks5, Squid HTTP and other fun stuff to help people. Intented for journalists, bloggers and all others who really need it!
---
If everyone else blocked China and injected their DNS so they had no communication - thus no trade or business - they would quickly be stopping their filtering and blocking. It's also probably very easy to do - simply stop querying their root servers for anything. It would be like turning the lights out on China. Just have all other root servers ignore F,I and J queries, or pass any F I J queries to A B or C instead.
---
well, it is possible to turn the net off! The did it in Xinjiang for a year after the riots in 2009, and there are reports of complete blackouts around the ares where Tibetan self-immolations are happening.
---
i2p is a better darknet, like tor but without the Achilles heel of a blockable central directory. works fine inside China.
---
---


© 2018 ACM, Inc. All Rights Reserved.