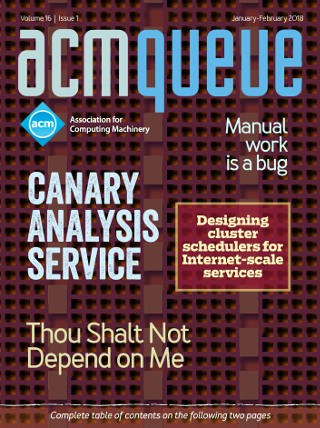 The January/February issue of acmqueue is out now
---

PDF
ITEM not available



Originally published in Queue vol. 9, no. 7—
see this item in the ACM Digital Library
---
Related:
Craig Russell - Bridging the Object-Relational Divide
ORM technologies can simplify data access, but be aware of the challenges that come with introducing this new layer of abstraction.
---
Comments
(newest first)
Very nice article. Very practical thoughts on linq provider development.
---
Very good article indeed, its helpful to see a nots & bolts critique of the whole provider subject. I will be creating an initial provider in the coming months for an in-memory datastore - I scratched the surface of this a few years ago and agree, there is a lot more to this than meets the eye - and I have worked on compilers too (PL/I in fact).
Thanks
Hugh
---
I want to thank you for writing this article; I have been looking for something like it for a while now. I'm the Creator a InKnowWorks and I have been working on a LINQ-based OWL/RDF DSL and language processing sub-systems for our Ontology (triple-store) database. Your article has inspired me to develop a series of writings that I think will help others to develop high-quality and hi-performance functional language processing.
Thanks again!
Darrell R. Thurmond
---
---


© 2018 ACM, Inc. All Rights Reserved.