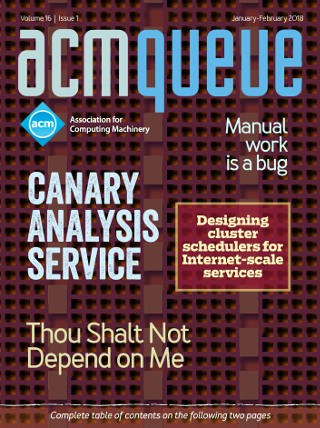 The January/February issue of acmqueue is out now
---

PDF
ITEM not available



Originally published in Queue vol. 9, no. 1—
see this item in the ACM Digital Library
---
Related:
Adam Oliner, Archana Ganapathi, Wei Xu - Advances and Challenges in Log Analysis
Logs contain a wealth of information for help in managing systems.
Mark Burgess - Testable System Administration
Models of indeterminism are changing IT management.
Thomas A. Limoncelli - A Plea to Software Vendors from Sysadmins - 10 Do's and Don'ts
What can software vendors do to make the lives of sysadmins a little easier?
Eben M. Haber, Eser Kandogan, Paul Maglio - Collaboration in System Administration
For sysadmins, solving problems usually involves collaborating with others. How can we make it more effective?
---
Comments
(newest first)
This article covered the essentials quite well. I have performed the sysadmin role, and up until a year ago I worked with an excellent SA, in my role as DB manager. "D W"'s manager needs to go eat a bullet, but I would recommend a help ticket system like Web Help Desk to DW, as it makes the users just as accountable as the SA and provides metrics.
Disgruntled needs to suck it up and communicate better. What do you need, Disgruntled?
---
Being less interrupt driven is the battle I'm fighting in my office. My manager expects us to immediately attend to critical e-mail as soon as it arrives which presents two problems: 1: It means evaluating a large portion of messages that arrive since no conventions are followed that would allow automatic separation of most such messages from the rest. 2: We have a formal on-call rotation and a page is sent already for most of the critical issues, thus this approach makes on-call rotation rather pointless.
---
Honestly, this article is basically saying, suck it up and communicate better, this does not help me at all!
---
---


© 2018 ACM, Inc. All Rights Reserved.