June 15, 2019 | Palace Hotel, San Francisco
ACM-IMS Interdisciplinary Summit on the Foundations of Data Science

ACM and the Institute of Mathematical Statistics are bringing together speakers and panelists to address topics such as deep learning, reinforcement learning, fairness, ethics, and the future of data science. Jeannette Wing and David Madigan are the event Co-Chairs.

https://www.acm.org/data-science-summit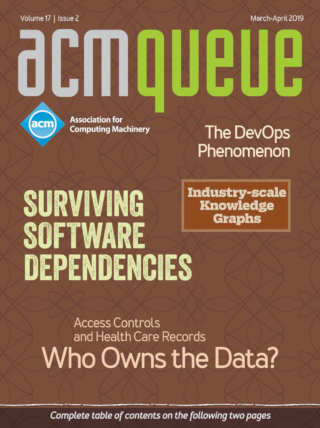 The March/April 2019 issue of acmqueue is out now

Subscribers and ACM Professional members login here

---

PDF
Error

526

Ray ID: 4dbca14ff87ec5c0 • 2019-05-24 04:47:11 UTC
Invalid SSL certificate
Newark
Cloudflare
Working
deliverybot.acm.org
Host
Error
What happened?
The origin web server does not have a valid SSL certificate.
What can I do?
If you're a visitor of this website:
Please try again in a few minutes.
If you're the owner of this website:
The SSL certificate presented by the server did not pass validation. This could indicate an expired SSL certificate or a certificate that does not include the requested domain name. Please contact your hosting provider to ensure that an up-to-date and valid SSL certificate issued by a Certificate Authority is configured for this domain name on the origin server. Additional troubleshooting information here.



Originally published in Queue vol. 8, no. 3—
see this item in the ACM Digital Library
---

Follow Kode Vicious on Twitter


and Facebook



Have a question for Kode Vicious? E-mail him at [email protected]. If your question appears in his column, we'll send you a rare piece of authentic Queue memorabilia. We edit e-mails for style, length, and clarity.

---
Related:
Natasha Noy, Yuqing Gao, Anshu Jain, Anant Narayanan, Alan Patterson, Jamie Taylor - Industry-scale Knowledge Graphs: Lessons and Challenges
Five diverse technology companies show how it's done
Ivar Jacobson, Roly Stimson - Tear Down the Method Prisons! Set Free the Practices!
Essence: a new way of thinking that promises to liberate the practices and enable true learning organizations
Alpha Lam - Using Remote Cache Service for Bazel
Save time by sharing and reusing build and test output
Jez Humble - Continuous Delivery Sounds Great, but Will It Work Here?
It's not magic, it just requires continuous, daily improvement at all levels.
---
Comments
(newest first)
Peer pressure should not be confused with shaming, which is always essentially negative. Indeed, one of the first lessons of leadership is "praise in public, criticize in private."
Rather, creating an environment where it's okay for one to take public responsibility for an error is far more effective. Ensuring that peer pressure is constructive can be used towards this end, as can good-natured competition (I like Paul Murray's example of the toy duck). Everyone makes mistakes and it is the mark of a healthy environment and a strong leader when one can acknowledge those mistakes to others in the organization. Making someone feel ashamed of making a mistake is neither scalable nor conducive to the long-term health of the organization.
---
I worked at one site where whoever had most recently broken the build had a duck (not a real duck, obviously) put in their cubicle. It was a triumphant occasion to pass the duck along to someone else.
Peer pressure, and a sense of professionalism and pride in your work. Each team member must internalise the value "I do not screw up everyone else's day by breaking the build".
---
Very useful article! I want to add that broken builds could also be due to too many manual steps in setting up development environments. There is always the temptation to "do the minor fix" but not go all the way- why go through the trouble of compiling the rest of the code, deploying, and verifying? When I hear a developer say "my dev environment is not setup" for days and weeks - that is a warning sign that the build might be too complex, manual, and error-prone. When you script the environment setup and the build process and start creating automated tests - it just makes the entire team more productive.
---
Great article! I would like to add that if the offender is unable to build the project with their changes before checking in those changes, you have an infrastructure problem. If they are technically able to build with their changes, and don't, you have a disciplinary problem.
---
I think one important point here too is culture at work. When there's considerable time spent on discussions on how it is your fault and not mine, and not in actually solving the problem, there's more likely no will to agree something has to be improved, nor to propose how to improve it, volunteer to collaborate on the improvement or accept the changes derived from it.
What I mean is having a culture of feedback and openness where nothing is ever personal also need to be enforced. It may sound an ideal case yet it's possible: A culture where people know they are being evaluated always on their work and not on themselves, where feedback is intended for improvement and enforces constant improvement. Where people are not defensive, having to lie or argue to avoid feeling ashamed or being labeled, or even avoiding responsibilities.
That way people will feel safe and be open to improve, and will be motivated to help achieve the goals.
It is hard to push for any change in infrastructure, architecture or attitude when people are prone not to collaborate and are more worried about their own image and reputation.
These are my two cents, I love the way you explain things here, Kode.
---
---


© 2018 ACM, Inc. All Rights Reserved.