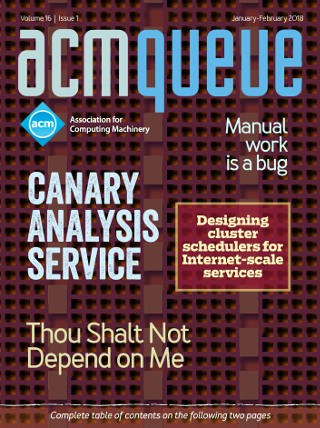 The January/February issue of acmqueue is out now
---

PDF
ITEM not available



Originally published in Queue vol. 8, no. 3—
see this item in the ACM Digital Library
---
Related:
David J. Brown, Charles Reams - Toward Energy-Efficient Computing
What will it take to make server-side computing more energy efficient?
Eric Saxe - Power-Efficient Software
Power-manageable hardware can help save energy, but what can software developers do to address the problem?
Alexandra Fedorova, Juan Carlos Saez, Daniel Shelepov, Manuel Prieto - Maximizing Power Efficiency with Asymmetric Multicore Systems
Asymmetric multicore systems promise to use a lot less energy than conventional symmetric processors. How can we develop software that makes the most out of this potential?
Matthew Garrett - Powering Down
Power management - from laptops to rooms full of servers - is a topic of interest to everyone. In the beginning there was the desktop computer. It ran at a fixed speed and consumed less power than the monitor it was plugged into. Where computers were portable, their sheer size and weight meant that you were more likely to be limited by physical strength than battery life. It was not a great time for power management.
---
Comments
(newest first)
Data centers should not be cooled by air circulation anymore. It is such a waste of energy!! Since micro compressors are in the market I start working with micro heat exchangers (40W/cm2) and place an evaporator into the data centers cooling them down to ambient temperature which allows me to work with 20°C of evaporating temperature, having then a great COP.
---
In addition to the technical solutions presented here, siting is definitely one of the most important factors that affect the energy consumption and environmental effects of a server farm. There are places with cooler climates than in the continental US and with more green electricity available. I would recommend anybody considering siting a datacenter to take a look at the Finnish website on these issues: http://www.fincloud.freehostingcloud.com/
---
Interesting and useful article. I wish I could understand why it does not seem to be feasible to use a heat pump to efficiently remove heat from our datacentre and use it to heat water or even space. It seems such a waste to just throw it outside.
---
---


© 2018 ACM, Inc. All Rights Reserved.