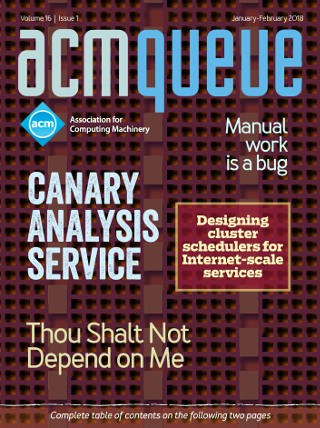 The January/February issue of acmqueue is out now
---

PDF
ITEM not available



Originally published in Queue vol. 8, no. 1—
see this item in the ACM Digital Library
---
Related:
Christoph Lameter - NUMA (Non-Uniform Memory Access): An Overview
NUMA becomes more common because memory controllers get close to execution units on microprocessors.
Bill Hsu, Marc Sosnick-Pérez - Realtime GPU Audio
Finite difference-based sound synthesis using graphics processors
David Bacon, Rodric Rabbah, Sunil Shukla - FPGA Programming for the Masses
The programmability of FPGAs must improve if they are to be part of mainstream computing.
Andrew Danowitz, Kyle Kelley, James Mao, John P. Stevenson, Mark Horowitz - CPU DB: Recording Microprocessor History
With this open database, you can mine microprocessor trends over the past 40 years.
---
Comments
(newest first)
Dear Sir, I hope you could help me in my Ph.D. project. I interest to study how i can use the queuing theory in operation resreach filed to make a simulation model to a multi-core processer, to reduce the waiting time for the jobs, which it wait to get serve in this processor.
Thank you for quick responce
Qusay H. Libya- Garyounis University
---
---


© 2018 ACM, Inc. All Rights Reserved.