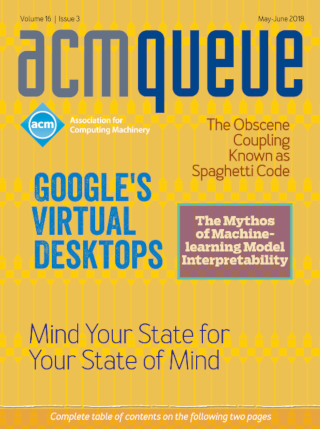 The May/June issue of acmqueue is out now

---

PDF
ITEM not available



Originally published in Queue vol. 7, no. 9—
see this item in the ACM Digital Library
---
Related:
Stephen V. Cantrill - Computers in Patient Care: The Promise and the Challenge
Information technology has the potential to radically transform health care. Why has progress been so slow?
Samantha Kleinberg, Bud Mishra - Metamorphosis: the Coming Transformation of Translational Systems Biology
In the future computers will mine patient data to deliver faster, cheaper healthcare, but how will we design them to give informative causal explanations? Ideas from philosophy, model checking, and statistical testing can pave the way for the needed translational systems biology.
James C Phillips, John E. Stone - Probing Biomolecular Machines with Graphics Processors
The evolution of GPU processors and programming tools is making advanced simulation and analysis techniques accessible to a growing community of biomedical scientists.
Kenneth N Lodding - The Hitchhiker's Guide to Biomorphic Software
The natural world may be the inspiration we need for solving our computer problems. While it is certainly true that "the map is not the territory," most visitors to a foreign country do prefer to take with them at least a guidebook to help locate themselves as they begin their explorations. That is the intent of this article. Although there will not be enough time to visit all the major tourist sites, with a little effort and using the information in the article as signposts, the intrepid explorer can easily find numerous other, interesting paths to explore.
---
Comments
(newest first)
Try to read a 10x10 pixel square in the middle of 10vx10v pixel matrix from a text/xml file. I suppose you will have to wait a long time or write very complex code to read exactly and only that square. In hdf this is straightforward. So, until the data is small, +1 to plain files. When it becomes extremely complex, and you may need to quickly access custom slices of it at a time, +100 to hdf.
---
hdf5 is a terrible format to work with. Extracting data from an hdf file is cumbersome and slow, code is difficult to write. Who wants to navigate through hierarchichal tree structures to get to a dataset? Do not promote this ancient format. Much simpler to use plain flat files with xml based file format descriptions. Now that is trivial.
---
---


© 2018 ACM, Inc. All Rights Reserved.