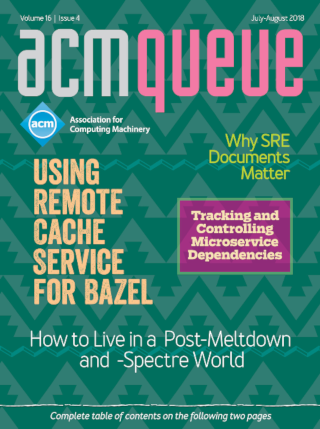 The July/August issue of acmqueue is out now
Subscribers and ACM Professional members login here

---

PDF
Error

526

Ray ID: 46ddf0800e8a9278 • 2018-10-22 18:13:43 UTC
Invalid SSL certificate
Newark
Cloudflare
Working
deliverybot.acm.org
Host
Error
What happened?
The origin web server does not have a valid SSL certificate.
What can I do?
If you're a visitor of this website:
Please try again in a few minutes.
If you're the owner of this website:
The SSL certificate presented by the server did not pass validation. This could indicate an expired SSL certificate or a certificate that does not include the requested domain name. Please contact your hosting provider to ensure that an up-to-date and valid SSL certificate issued by a Certificate Authority is configured for this domain name on the origin server. Additional troubleshooting information here.



Originally published in Queue vol. 6, no. 7—
see this item in the ACM Digital Library
---
Related:
Walker White, Christoph Koch, Johannes Gehrke, Alan Demers - Better Scripts, Better Games
The video game industry earned $8.85 billion in revenue in 2007, almost as much as movies made at the box office. Much of this revenue was generated by blockbuster titles created by large groups of people. Though large development teams are not unheard of in the software industry, game studios tend to have unique collections of developers. Software engineers make up a relatively small portion of the game development team, while the majority of the team consists of content creators such as artists, musicians, and designers.
Mark Callow, Paul Beardow, David Brittain - Big Games, Small Screens
One thing that becomes immediately apparent when creating and distributing mobile 3D games is that there are fundamental differences between the cellphone market and the more traditional games markets, such as consoles and handheld gaming devices. The most striking of these are the number of delivery platforms; the severe constraints of the devices, including small screens whose orientation can be changed; limited input controls; the need to deal with other tasks; the nonphysical delivery mechanism; and the variations in handset performance and input capability.
Nick Porcino - Gaming Graphics
It has been a long journey from the days of multicolored sprites on tiled block backgrounds to the immersive 3D environments of modern games. What used to be a job for a single game creator is now a multifaceted production involving staff from every creative discipline. The next generation of console and home computer hardware is going to bring a revolutionary leap in available computing power; a teraflop (trillion floating-point operations per second) or more will be on tap from commodity hardware.
Dean Macri - The Scalability Problem
Back in the mid-1990s, I worked for a company that developed multimedia kiosk demos. Our biggest client was Intel, and we often created demos that appeared in new PCs on the end-caps of major computer retailers such as CompUSA. At that time, performance was in demand for all application classes from business to consumer. We created demos that showed, for example, how much faster a spreadsheet would recalculate (you had to do that manually back then) on a new processor as compared with the previous year's processor. The differences were immediately noticeable to even a casual observer - and it mattered.
---
Comments
(newest first)
Well, things have progressed considerably in the past year. We have run literally thousands of clients on a single server. We are now working on getting things running on multiple servers (which means that it doesn't yet perform well on multiple servers). But a lot depends on how independent the various tasks that are produced actually are-- the more contention in the game logic, the more linear the execution and the less performance Darkstar gives.
But you might be surprised if you try again...
---
Ok
---
Last I heard (a year ago), demos of even simple things in Darkstar were less than performant, if you will. I haven't researched it since then, although I do see some showcased systems on the Darkstar web page.
It is all nice sounding in theory. What is the current practice? I am not trying to ask this in a mean way -- personally I value anybody who is actually applying real thought to making virtual world systems suck less, and so do hope that Darkstar can show off a new way forward.
---
---


© 2018 ACM, Inc. All Rights Reserved.