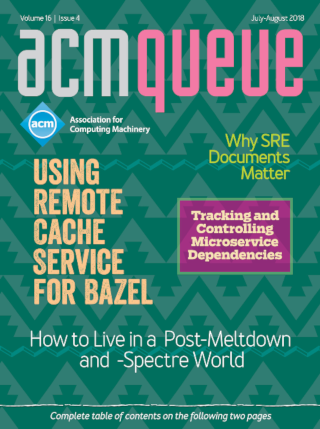 The July/August issue of acmqueue is out now

---

PDF
Error

526

Ray ID: 45ff5b1609bc2204 • 2018-09-25 17:54:24 UTC
Invalid SSL certificate
Newark
Cloudflare
Working
deliverybot.acm.org
Host
Error
What happened?
The origin web server does not have a valid SSL certificate.
What can I do?
If you're a visitor of this website:
Please try again in a few minutes.
If you're the owner of this website:
The SSL certificate presented by the server did not pass validation. This could indicate an expired SSL certificate or a certificate that does not include the requested domain name. Please contact your hosting provider to ensure that an up-to-date and valid SSL certificate issued by a Certificate Authority is configured for this domain name on the origin server. Additional troubleshooting information here.



Originally published in Queue vol. 4, no. 5—
see this item in the ACM Digital Library
---
Related:
Satnam Singh - Cluster-level Logging of Containers with Containers
Logging Challenges of Container-Based Cloud Deployments
Peter Kriens - How OSGi Changed My Life
In the early 1980s I discovered OOP (object-oriented programming) and fell in love with it, head over heels. As usual, this kind of love meant convincing management to invest in this new technology, and most important of all, send me to cool conferences. So I pitched the technology to my manager. I sketched him the rosy future, how one day we would create applications from ready-made classes. We would get those classes from a repository, put them together, and voila, a new application would be born.
Len Takeuchi - ASPs
The promise of software as a service is becoming a reality with many ASPs (application service providers). Organizations using ASPs and third-party vendors that provide value-added products to ASPs need to integrate with them. ASPs enable this integration by providing Web service-based APIs. There are significant differences between integrating with ASPs over the Internet and integrating with a local application. When integrating with ASPs, users have to consider a number of issues, including latency, unavailability, upgrades, performance, load limiting, and lack of transaction support.
Chris Richardson - Untangling Enterprise Java
Separation of concerns is one of the oldest concepts in computer science. The term was coined by Dijkstra in 1974.1 It is important because it simplifies software, making it easier to develop and maintain. Separation of concerns is commonly achieved by decomposing an application into components. There are, however, crosscutting concerns, which span (or cut across) multiple components. These kinds of concerns cannot be handled by traditional forms of modularization and can make the application more complex and difficult to maintain.
---
Comments
(newest first)
Displaying 10 most recent comments. Read the full list here
Why would you disable double click on the text? what too with so many complicated words in the article ?
---
I dropped a tear in the ocean of distributed technologies where CORBA should have been forever.
---
The interesting question is not about the fall of CORBA, but the rise of JEE. How could EJB 1.0 - particularly CMP entity beans - be considered a serious technology and be used in real applications? How could this push a working and well performing technology aside? it felt like an academic toy. Many years later now it is becoming usable.
---
Hi, some ORB implementations were developed to use CORBA not only on processors, but only on "specialized HW" like DSP, FPGA or ASIC.
Why not bringing CORBA to live to mine bitcoins ?!?
---
The CORBA community did agree that the C++ mapping is hard to use. In order to resolve this the OMG has standardized a new C++11 language mapping which is easy to use, reuses STL as much as possible, and leads to more performance.
---
The article mentions the lack of compression, this is not the case anymore. CORBA now has ZIOP which defines a set of policies to enable compression when sending data over the wire.
---
Anyone interested in old CORBA books let me know -- soon. Else, they are headed for the trash heap. Here's a listing: -- Essential CORBA (Thomas Mowbray) -- Java Prgramming with CORBA (Andreas Vogel, Keith Duddy) Also -- Inside DCOM (Eddon) -- Object Oriented Modeling and Design (James Rumbaugh, et al) -- Component Software, Beyond Object Oriented Programming (Clemens Szyperski)
---
I just started using it! In 2010. Seems still very alive.
---
Since CORBA is pronunced in polish 'korba' which means (in polish) 'crank' it cannot be good.
---
AMQP seems to be showing a lot of promise as well.
---
Displaying 10 most recent comments. Read the full list here
---


© 2018 ACM, Inc. All Rights Reserved.