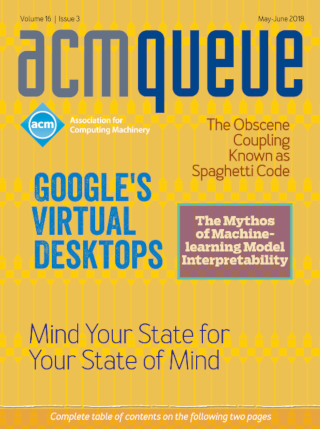 The May/June issue of acmqueue is out now

---

PDF
ITEM not available



Originally published in Queue vol. 3, no. 10—
see this item in the ACM Digital Library
---
Related:
Jez Humble - Continuous Delivery Sounds Great, but Will It Work Here?
It's not magic, it just requires continuous, daily improvement at all levels.
Nicole Forsgren, Mik Kersten - DevOps Metrics
Your biggest mistake might be collecting the wrong data.
Alvaro Videla - Metaphors We Compute By
Code is a story that explains how to solve a particular problem.
Ivar Jacobson, Ian Spence, Pan-Wei Ng - Is There a Single Method for the Internet of Things?
Essence can keep software development for the IoT from becoming unwieldy.
---
Comments
(newest first)
Just the opposite UML Guru.
Look for how the Chevy Volt or F-22 Raptor was done. You will be very surprised.
---
I agree that UML graphical design can not produce complex software. The problem is always the same in MDD and is related to intermediate transformation stages. You have N0, then N1, then N2, then N3 from MOF to UML diagrams. It is so complex that once you arrived at the diagram almost 90% of the needed MOF information has been lost.
There is a new initiative provided by Omondo which is to directly synchronized MOF, to UML metamodel to UML diagrams, to Java code and Database persistence annotations. The UML diagrams are a view not only of the UML metamodel/model but also of the code which gives an object view of the full project. It means that all needed complexity could be directly hand codded in the UML model or reverse from the code. The Model driven development is and will remain impossible because code is an important object such as UML classes in the class diagram. It is an utopia to believe that just from a model yoou can get all needed code but it is a reality today to be able from a class diagram to have a full view of your software code and architecture. You can now add condition directly in the UML metamodel which is impossible in traditional UML and this is why BPMN has been created in order to cover what was missing in UML. Today with just one UML model mapping full project properties, the possibility to directly synchronize MOF to code and UML diagrams makes UML iteration with databases and code a realitty and also includes business rules and condition. Everything being saved at the same place in a single model makes UML models not a simplified view of the reality but a full mapping of both object and business entities of complex projects. Do you know that you can model in UML what is not possible in the code ? Do you know that you can map all your code to UML models using the class diagram reverse engineering associated with the sequence diagram ?
Please no more MDD but I want more UML :-)
UML Guru
---
---


© 2018 ACM, Inc. All Rights Reserved.