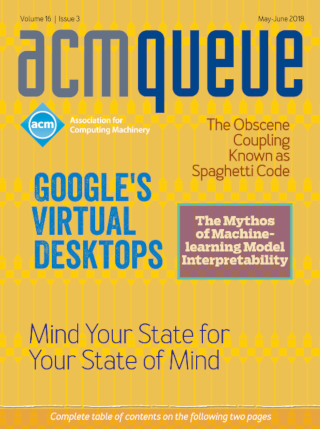 The May/June issue of acmqueue is out now

---

PDF
ITEM not available



Originally published in Queue vol. 2, no. 6—
see this item in the ACM Digital Library
---
Related:
- Getting Bigger Reach Through Speech
Mark Ericson, vice president of product strategy for BlueNote Networks argues that in order to take advantage of new voice technologies you have to have a plan for integrating that capability directly into the applications that drive your existing business processes.
Douglas C. Sicker, Tom Lookabaugh - VoIP Security: Not an Afterthought
Voice over IP (VoIP) promises to up-end a century-old model of voice telephony by breaking the traditional monolithic service model of the public switched telephone network (PSTN) and changing the point of control and provision from the central office switch to the end user's device.
Sudhir R. Ahuja, Robert Ensor - VoIP: What is it Good for?
VoIP (voice over IP) technology is a rapidly expanding field. More and more VoIP components are being developed, while existing VoIP technology is being deployed at a rapid and still increasing pace. This growth is fueled by two goals: decreasing costs and increasing revenues.
James E. Coffman - Not Your Father's PBX?
Perhaps no piece of office equipment is more taken for granted than the common business telephone. The technology behind this basic communication device, however, is in the midst of a major transformation. Businesses are now converging their voice and data networks in order to simplify their network operations and take advantage of the new functional benefits and capabilities that a converged network delivers from greater productivity and cost savings to enhanced mobility.
---
Comments
(newest first)
---


© 2018 ACM, Inc. All Rights Reserved.