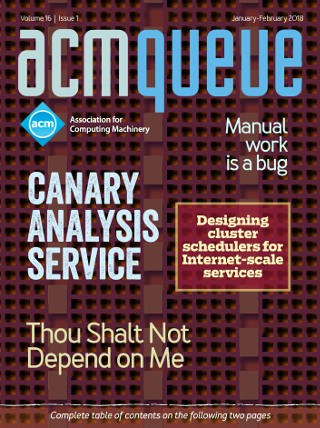 The January/February issue of acmqueue is out now
---

PDF
ITEM not available



Originally published in Queue vol. 2, no. 5—
see this item in the ACM Digital Library
---
Related:
Jonathan Parri, Daniel Shapiro, Miodrag Bolic, Voicu Groza - Returning Control to the Programmer
Exposing SIMD units within interpreted languages could simplify programs and unleash floods of untapped processor power.
Bob Supnik - Simulators
Simulators are a form of "virtual machine" intended to address a simple problem: the absence of real hardware. Simulators for past systems address the loss of real hardware and preserve the usability of software after real hardware has vanished. Simulators for future systems address the variability of future hardware designs and facilitate the development of software before real hardware exists.
Mendel Rosenblum - The Reincarnation of Virtual Machines
The term "virtual machine" initially described a 1960s operating system concept: a software abstraction with the looks of a computer system's hardware (real machine). Forty years later, the term encompasses a large range of abstractions - for example, Java virtual machines that don't match an existing real machine. Despite the variations, in all definitions the virtual machine is a target for a programmer or compilation system. In other words, software is written to run on the virtual machine.
---
Comments
(newest first)
Expertly written shows why security software is failing. Something smarter out there. Probably Russian.
---
Moore's Rule is about to fall flat out. May I suggest this Better Yet Rule: Write Your Own Rules.
---
---


© 2018 ACM, Inc. All Rights Reserved.