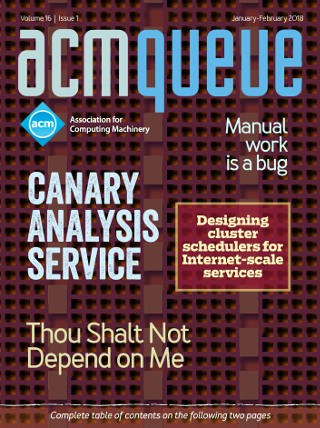 The January/February issue of acmqueue is out now
---

PDF
ITEM not available



Originally published in Queue vol. 2, no. 5—
see this item in the ACM Digital Library
---
Related:
Jonathan Parri, Daniel Shapiro, Miodrag Bolic, Voicu Groza - Returning Control to the Programmer
Exposing SIMD units within interpreted languages could simplify programs and unleash floods of untapped processor power.
Bob Supnik - Simulators
Simulators are a form of "virtual machine" intended to address a simple problem: the absence of real hardware. Simulators for past systems address the loss of real hardware and preserve the usability of software after real hardware has vanished. Simulators for future systems address the variability of future hardware designs and facilitate the development of software before real hardware exists.
Poul-Henning Kamp, Robert Watson - Building Systems to Be Shared, Securely
The history of computing has been characterized by continuous transformation resulting from the dramatic increases in performance and drops in price described by Moore's law. Computing "power" has migrated from centralized mainframes/servers to distributed systems and the commodity desktop. Despite these changes, system sharing remains an important tool for computing. From the multitasking, file-sharing, and virtual machines of the desktop environment to the large-scale sharing of server-class ISP hardware in collocation centers, safely sharing hardware between mutually untrusting parties requires addressing critical concerns of accidental and malicious damage.
---
Comments
(newest first)
---


© 2018 ACM, Inc. All Rights Reserved.