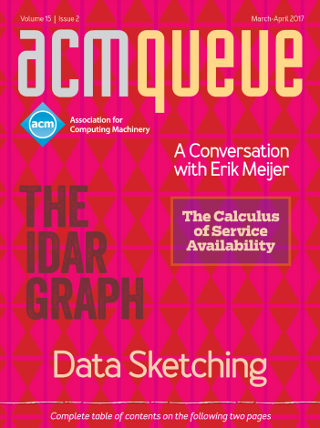 The March/April issue of acmqueue is out now
---

PDF
500 Error - Server Error
We are sorry ...
... but the URL you have requested has resulted in a Server Error.
It is possible that this was a temporary problem and is already corrected so please try to refresh this page.

We apologize for this inconvenience.

If the problem persists please contact us: portal-feedback@hq.acm.org



Originally published in Queue vol. 7, no. 6—
see this item in the ACM Digital Library
---
Related:
Ivar Jacobson, Ian Spence, Ed Seidewitz - Industrial Scale Agile - from Craft to Engineering
Essence is instrumental in moving software development toward a true engineering discipline.
Andre Medeiros - Dynamics of Change: Why Reactivity Matters
Tame the dynamics of change by centralizing each concern in its own module.
Brendan Gregg - The Flame Graph
This visualization of software execution is a new necessity for performance profiling and debugging.
Ivar Jacobson, Ian Spence, Brian Kerr - Use-Case 2.0
The Hub of Software Development
---
Comments
(newest first)
Splendid riposte, Paul. I have been on the front row for a Myriam Makeba concert. Whether the clicks themselves emitted CO2 was not clear at the time, but I bow to your correction. In fact, all languages have a variety of sounds each with different /carbon-mouth-prints/. Xhosa has a full repertoire of phonemes besides the Western-ear-catching so-called /exotic/ clicks. I can imagine Xhosa speakers being annoyed when asked to sing a /click song/ Rather as if they asked me to sing a TH-song? All speakers must breathe in and out (or die). It's probably /greener/ to sit and chat in language than to jog around in silence. Cheers, Stan
---
Xhosa clicks cause no outflow of breath. The energy for the sound comes from increasing the size of the mouth cavity. Were that not enough, Xhosa also has an implosive b that causes an (extremely brief) net inflow of breath. Be linguistically carbon-neutral! Learn and speak Xhosa!
I wouldn't make this comment except it's August.
---
---


© 2017 ACM, Inc. All Rights Reserved.