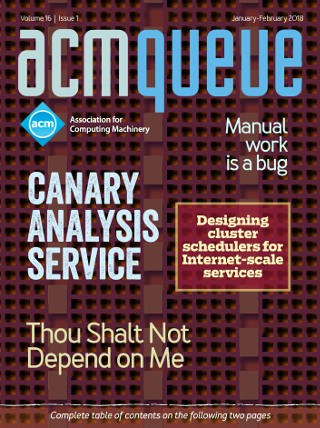 The January/February issue of acmqueue is out now
---

PDF
ITEM not available



Originally published in Queue vol. 13, no. 9—
see this item in the ACM Digital Library
---
Related:
Jez Humble - Continuous Delivery Sounds Great, but Will It Work Here?
It's not magic, it just requires continuous, daily improvement at all levels.
Nicole Forsgren, Mik Kersten - DevOps Metrics
Your biggest mistake might be collecting the wrong data.
Alvaro Videla - Metaphors We Compute By
Code is a story that explains how to solve a particular problem.
Ivar Jacobson, Ian Spence, Pan-Wei Ng - Is There a Single Method for the Internet of Things?
Essence can keep software development for the IoT from becoming unwieldy.
---
Comments
(newest first)
Good article; many good points, however the item about trusting the collective judgement of the team towards one member is very dangerous.
Sometimes that member really is the one you should be listening too. Workplace cultures and team dynamics can be self-reinforcing, especially when mediocracy is the baseline.
Such teams resist being challenged and pushed toward excellence, and will direct that resentment towards more skilled and higher performers, moreso when that person is new to an established group.
---
"I will give you autonomy and independence, but it is your responsibility to share status and information with me."
Almost every (good) one hate doing what they don't enjoy. It is important for the supervisors or managers to create an environment where sharing the status and information is also enjoyable for the employees. This only happen when the managers are content rich and well aware of the context.
---
---


© 2018 ACM, Inc. All Rights Reserved.