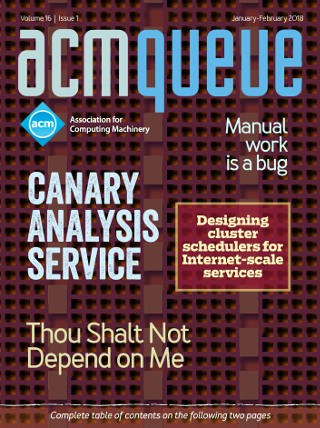 The January/February issue of acmqueue is out now
---

PDF
ITEM not available



Originally published in Queue vol. 13, no. 8—
see this item in the ACM Digital Library
---
Related:
Jez Humble - Continuous Delivery Sounds Great, but Will It Work Here?
It's not magic, it just requires continuous, daily improvement at all levels.
Nicole Forsgren, Mik Kersten - DevOps Metrics
Your biggest mistake might be collecting the wrong data.
Alvaro Videla - Metaphors We Compute By
Code is a story that explains how to solve a particular problem.
Ivar Jacobson, Ian Spence, Pan-Wei Ng - Is There a Single Method for the Internet of Things?
Essence can keep software development for the IoT from becoming unwieldy.
---
Comments
(newest first)
We should release software as soon as possible. It is well known that software development is often a wicked problem: we know if we have solved it only when we have developed it. This powerful reality will drive teams to cut corners, introduce technical debt. However, this force for early release should not be an excuse to encourage sloppy software or sloppy developers. A sloppy developer is a software engineer in training, she should be treated like that. They need to commit to improve in design skills or they need to leave the team, unless they are a technical expert in a valuable discipline such as machine learning. In this latter case, they should not be developers for the production team, just prototypes of their technical ideas.
---
Never treat your users as testers though, or release (intentionally) crappy buggy "beta quality" software. Your users will hate you for it and look for alternative better pieces of software.
---
---


© 2018 ACM, Inc. All Rights Reserved.