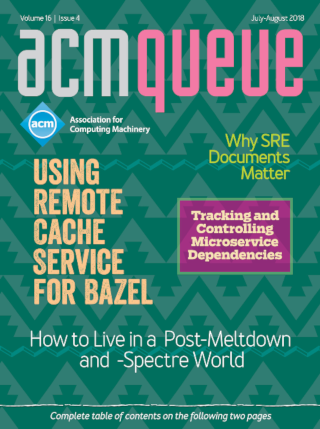 The July/August issue of acmqueue is out now
Subscribers and ACM Professional members login here

---

PDF
Error

526

Ray ID: 46e01dc248e59236 • 2018-10-23 00:34:08 UTC
Invalid SSL certificate
Newark
Cloudflare
Working
deliverybot.acm.org
Host
Error
What happened?
The origin web server does not have a valid SSL certificate.
What can I do?
If you're a visitor of this website:
Please try again in a few minutes.
If you're the owner of this website:
The SSL certificate presented by the server did not pass validation. This could indicate an expired SSL certificate or a certificate that does not include the requested domain name. Please contact your hosting provider to ensure that an up-to-date and valid SSL certificate issued by a Certificate Authority is configured for this domain name on the origin server. Additional troubleshooting information here.



Originally published in Queue vol. 12, no. 10—
see this item in the ACM Digital Library
---
Related:
Alpha Lam - Using Remote Cache Service for Bazel
Save time by sharing and reusing build and test output
Jez Humble - Continuous Delivery Sounds Great, but Will It Work Here?
It's not magic, it just requires continuous, daily improvement at all levels.
Nicole Forsgren, Mik Kersten - DevOps Metrics
Your biggest mistake might be collecting the wrong data.
Alvaro Videla - Metaphors We Compute By
Code is a story that explains how to solve a particular problem.
---
Comments
(newest first)
Displaying 10 most recent comments. Read the full list here
Nice article, agreed in great part. But it breathes an air of ADHD with developers "simply burn out by the time they reach their mid-30s". And those companies (google, apple, facebook) that are offered as models for other companies. Don't be intimidated. https://www.informationweek.com/it-leadership/rules-for-radical-cios/d/d-id/1110038
---
It is intriguing that the article asks to even remove Scrum practices like daily standup, turndown charts, etc. The authors don't say it but they do this from their complete rejection of processes when applied to software development. Their view that managing developers is like managing a Bee Hive is thought provoking, even though I have not never tended I bee hive but I get the point: developers are the ones creating the code (honey) and they can seem disorganized but if tended properly then they will create very good honey. Continuing the metaphor though, one notices that it falls apart when we realize that bees in the wild need not tending ("context"). Interesting article, yes, software is eating the world, and as developers we are a key part in this. But how it ends up may be different than the scenario painted here.
---
Software becomes more central to all value added by the enterprise. It is quite true that the hacker essence is poorly understood and yet harnessing the talent of developers is critical to creating the software that creates a competitive edge, opens up new markets, and redefines businesses.
While there may be shining examples of successful outcomes for the youth-centric, pizza-fueled, hard-driving, iterate-fast, constant-sprint culture that the companies celebrated as tech darlings often foster, let us not develop religious feelings for the one true way!
Sometimes software takes deliberation, and wisdom, and patience, and respect for lessons learned by established businesses. We are in our infancy with the computer revolution.
---
Of course hierarchical companies are the most effective, the question is, do people like working for them ? Do people accept hierarchy well ? Unless you pay a lot of money for people to accept the hierarchy, people will feel unsatisfied and just leave. Some management teacher once said "All we need is management and people(that accept the management)". Where is the people ? Ignoring employee satisfaction is a sure way to have a very effective company nobody wants to work for. The real challenge is to satisfy the owners, clients, employees and the community around the company simultaneously, and few companies manage to do that.
---
Lord Ellison must be peeved that his last name is spelt wrong in this article!
---
>>Understanding and appreciating the hacker's mind is impossible if you are not a hacker yourself. The article does not define what a hacker is. Are the professors conflicted on what the term means ?
---
Developers burn out by their mid 30s? Does not match my experience of the many talented developers I have worked with who are well over that age. What does happen is that they settle down and have children around that age.
This doesn't have to be a problem at all, unless you work for the type of organisation that routinely expects long hours at a desk, and spare time used to up-skill.
I suspect the burn out problem you are identifying is with the organisation, rather than the developers. It doesn't have to be like that at all - what a waste of talent.
---
Since when are banks not software companies? Everything a bank does requires tons of software, yet Citibank is the bottom ten.
---
Hi,
thanks for this very interesting article: make it longer with more data and this can be a reference article. Or make it shorter and this can be a manifesto.
You may find interesting the idea of "Moneyball for companies":
http://www.gallup.com/opinion/chairman/179420/moneyball-company.aspx
That's basically what you are saying about metrics, but with a catchy name :)
---
Hi OD, I agree that quality is important. What we are proposing is using a different path to achieve it.
Vikram.
---
Displaying 10 most recent comments. Read the full list here
---


© 2018 ACM, Inc. All Rights Reserved.