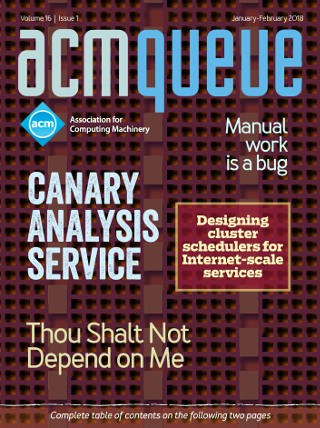 The January/February issue of acmqueue is out now
---

PDF
ITEM not available



Originally published in Queue vol. 12, no. 9—
see this item in the ACM Digital Library
---
Related:
Taylor Savage - Componentizing the Web
We may be on the cusp of a new revolution in web development.
Arie van Deursen - Beyond Page Objects: Testing Web Applications with State Objects
Use states to drive your tests
Rich Harris - Dismantling the Barriers to Entry
We have to choose to build a web that is accessible to everyone.
Ilya Grigorik - Making the Web Faster with HTTP 2.0
HTTP continues to evolve
---
Comments
(newest first)
Figure 2 : init() functions must be called on instant/autocomplete/control instead of instantSearch/autocompleteSearch/controlSearch : control.init() instead of controlSearch.init() ...
---
Interesting, and this isn't a comment directed at this nice article, but Javascript always sounds a lot like "cleverly" turning a screw with hammer, when you really need a screw-driver..
---
Phenomenal read and great insight, thanks for sharing.
---
Excellent article, thank you !
---
Just Thank you !!! this is an amazing article
---
This is an insightful article, but you can't A/B test your way to great design. This point is demonstrated by the dissatisfaction that Netflix's user interface commonly incurs.
---
---


© 2018 ACM, Inc. All Rights Reserved.