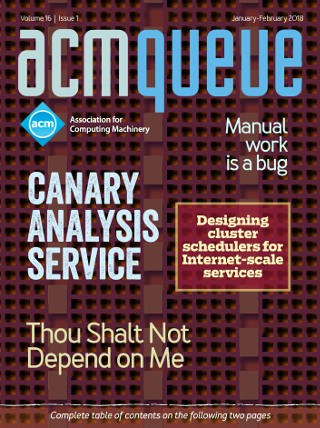 The January/February issue of acmqueue is out now
---

PDF
ITEM not available



Originally published in Queue vol. 11, no. 10—
see this item in the ACM Digital Library
---
Related:
Robert C. Seacord - Uninitialized Reads
Understanding the proposed revisions to the C language
Carlos Baquero, Nuno Preguiça - Why Logical Clocks are Easy
Sometimes all you need is the right language.
Erik Meijer, Kevin Millikin, Gilad Bracha - Spicing Up Dart with Side Effects
A set of extensions to the Dart programming language, designed to support asynchrony and generator functions
Dave Long - META II: Digital Vellum in the Digital Scriptorium
Revisiting Schorre's 1962 compiler-compiler
---
Comments
(newest first)
this is a true senario, am really interested on how the information has just been flowed.and i love the fact that the IRs has been expanded in such a way that it is well understood. i personally i have found the information that i was looking for. finally i would like to know more about programming specifically in object oriented programming thank you
---
Here's how NQP's QAST (https://github.com/perl6/nqp/blob/master/docs/qast.markdown) informally stacks up against your bullet points:
" Completeness. Written in NQP. NQP is a simple functional/OO lang for writing compilers. A QAST tree consists of a tree of NQP objects made from about a dozen classes corresponding to very generic intermediate things (eg compilation units, closures, calls of closures, literal values, ops).
" Semantic gap. Er, no idea.
" Hardware neutrality. NQP is designed to be highly portable. It targets both existing VMs (JVM, CLR, etc.) and its own custom VM (MoarVM) which is itself highly portable.
" Manually programmable. QAST is just a tree of object declarations written in NQP.
" Extensibility. Extend the classes already defined for QAST or write new ones. Or write new NQP ops.
" Simplicity. Yeah. About a dozen types of object written in a simple language (NQP).
" Program information. QAST annotations.
" Analysis information. QAST annotations.
---
---


© 2018 ACM, Inc. All Rights Reserved.