June 15, 2019 | Palace Hotel, San Francisco
ACM-IMS Interdisciplinary Summit on the Foundations of Data Science

ACM and the Institute of Mathematical Statistics are bringing together speakers and panelists to address topics such as deep learning, reinforcement learning, fairness, ethics, and the future of data science. Jeannette Wing and David Madigan are the event Co-Chairs.

https://www.acm.org/data-science-summit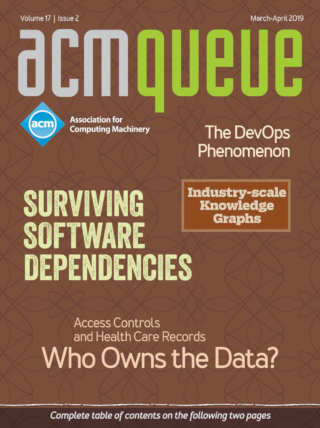 The March/April 2019 issue of acmqueue is out now

Subscribers and ACM Professional members login here

---

PDF
Error

526

Ray ID: 4dbca4b46ccec5dc • 2019-05-24 04:49:30 UTC
Invalid SSL certificate
Newark
Cloudflare
Working
deliverybot.acm.org
Host
Error
What happened?
The origin web server does not have a valid SSL certificate.
What can I do?
If you're a visitor of this website:
Please try again in a few minutes.
If you're the owner of this website:
The SSL certificate presented by the server did not pass validation. This could indicate an expired SSL certificate or a certificate that does not include the requested domain name. Please contact your hosting provider to ensure that an up-to-date and valid SSL certificate issued by a Certificate Authority is configured for this domain name on the origin server. Additional troubleshooting information here.



Originally published in Queue vol. 11, no. 1—
see this item in the ACM Digital Library
---

Follow Kode Vicious on Twitter


and Facebook



Have a question for Kode Vicious? E-mail him at [email protected]. If your question appears in his column, we'll send you a rare piece of authentic Queue memorabilia. We edit e-mails for style, length, and clarity.

---
Related:
Natasha Noy, Yuqing Gao, Anshu Jain, Anant Narayanan, Alan Patterson, Jamie Taylor - Industry-scale Knowledge Graphs: Lessons and Challenges
Five diverse technology companies show how it's done
Ivar Jacobson, Roly Stimson - Tear Down the Method Prisons! Set Free the Practices!
Essence: a new way of thinking that promises to liberate the practices and enable true learning organizations
Alpha Lam - Using Remote Cache Service for Bazel
Save time by sharing and reusing build and test output
Jez Humble - Continuous Delivery Sounds Great, but Will It Work Here?
It's not magic, it just requires continuous, daily improvement at all levels.
---
Comments
(newest first)
"Programs that were written in a more reasonable style and without ridiculous schedules imposed from above maintain their freshness longer."
Pre-1995 code was developed by cadres of "early adopters" of Comp. Sci.; It tends to be more "reasoned" (calling that "style" seems slanderous). Code production methodologies with a few exceptions (e.g. NASA & military) were certainly more relaxed - there were few "mass market deliverables". A lot of code from that era has aged remarkably well, and rumors of its expiration date are exaggerated. Rather than a "Best By" date, I suggest a pedigree mark, e.g., "GNU Binutils - perfect since 1981".
---
The real power of the Apl symbols lies in the parsing - not not the computer parsing, but what goes on in one's head. Because there is one symbol per concept, there is no problem in building a complex expression in ones head, and then mentally executing it. A whole level of parsing needed with other languages is just not present. And no, Apl is not dead, the core is unchanged over decades, but it has evolves into a powerful multi-tasking Object Oriented platform with hooks to .net, regular expression parsers, has GUI creation facilities, and talks to FPGAs. I am currently re-visiting and extending its capabilities to be compiled to reside in multi-processor systems and soft processors on FPGAs. http://www.microapl.co.uk/APL/ http://doi.acm.org/10.1145/379199.379200 http://archive.vector.org.uk/art10011790 http://www.element14.com/community/groups/fpga-group/blog/2012/04/28/fpga-modular-firmware-skeleton-for-multiple-instruments--morph-ic-ii-youtube-videos http://www.lab-tools.com/software/Compiling_Apl_for_MultiProcessors/
---
To be fair, the previous behaviour of / in Python was problematic as well, since two different operations (integer and real division) were represented by the same operator. This is a real problem in a language that encourages you to write polymorphic "duck-typed" code where you don't convert the type of your arguments: you would usually expect 2 / 3 == 2.0 / 3.
---
---


© 2018 ACM, Inc. All Rights Reserved.