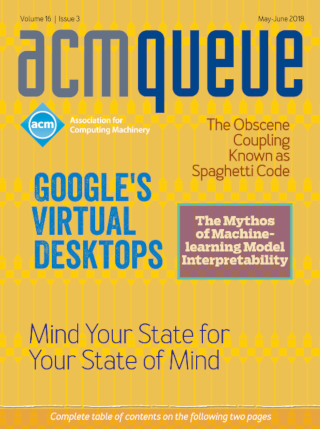 The May/June issue of acmqueue is out now

---

PDF
ITEM not available



Originally published in Queue vol. 10, no. 7—
see this item in the ACM Digital Library
---
Related:
Alex E. Bell - UML Fever
Acknowledgment is only the first step toward recovery from this potentially devastating affliction. The Institute of Infectious Diseases has recently published research confirming that the many and varied strains of UML Fever continue to spread worldwide, indiscriminately infecting software analysts, engineers, and managers alike. One of the fevers most serious side effects has been observed to be a significant increase in both the cost and duration of developing software products. This increase is largely attributable to a decrease in productivity resulting from fever-stricken individuals investing time and effort in activities that are of little or no value to producing deliverable products.
George Brandman - Patching the Enterprise
Organizations of all sizes are spending considerable efforts on getting patch management right - their businesses depend on it.
Joseph Dadzie - Understanding Software Patching
Developing and deploying patches is an increasingly important part of the software development process.
---
Comments
(newest first)
Hello Emery / ACM,
Great topic. It seems to me that coding in safer languages is a great start, of course, but PHP is semi-safe yet still all the bugs are pushed into the upper layers that present themselves as web vulnerabilities due to bad filtering, logic flaws, etc.
How about using Eiffel, which is the most OO-pure language and also incredibly safe? Even compiles down to useful C, which makes apps portable. Want to verify the logic? No problem...if you clearly honor Design by Contract methodologies proffered by Eiffel and built-in. Eiffel also has many other protective features such as loop invariants, etc.
https://en.wikipedia.org/wiki/Eiffel_(programming_language)
https://en.wikipedia.org/wiki/Loop_invariant#Eiffel
If I were going to re-code all C / C++ software, I would do it in Eiffel and get the open source community on board...alas such a daunting task indeed!
---
---


© 2018 ACM, Inc. All Rights Reserved.