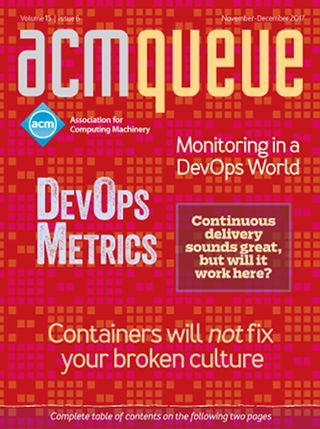 The November/December issue of acmqueue is out now
---
Home Bufferbloat Demonstration Videos
While bufferbloat is regularly present in computers and routers throughout the Internet, we frequently suffer its effects most directly at home—and it is at home where it can easily be investigated. The videos presented here demonstrate two instances of "typical" bufferbloat found in ordinary, modern broadband equipment and home routers. Under common loads, your real Internet "speed" can easily drop by a factor of ten due to bufferbloat.
There are two versions of the video:
A short bufferbloat video, of slightly over 8 minutes, which includes both demonstrations, but elides most of the explanation. Its intent is to get people "hooked" so they will want to know more.
The longer version of the video clocks in at 21 minutes and includes both demonstrations and gives a simplified explanation of bufferbloat's cause to encourage people to dig yet further.



Originally published in Queue vol. 10, no. 2—
see this item in the ACM Digital Library
---
Related:
Yonatan Sompolinsky, Aviv Zohar - Bitcoin's Underlying Incentives
The unseen economic forces that govern the Bitcoin protocol
Antony Alappatt - Network Applications Are Interactive
The network era requires new models, with interactions instead of algorithms.
Jacob Loveless - Cache Me If You Can
Building a decentralized web-delivery model
Theo Schlossnagle - Time, but Faster
A computing adventure about time through the looking glass
---
Comments
(newest first)
---


© 2018 ACM, Inc. All Rights Reserved.