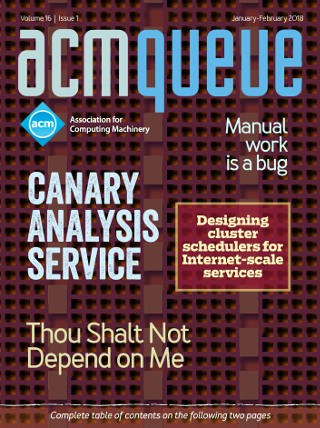 The January/February issue of acmqueue is out now
---

PDF
ITEM not available



Originally published in Queue vol. 9, no. 9—
see this item in the ACM Digital Library
---

Follow Kode Vicious on Twitter


and Facebook



Have a question for Kode Vicious? E-mail him at [email protected]. If your question appears in his column, we'll send you a rare piece of authentic Queue memorabilia. We edit e-mails for style, length, and clarity.

---
---
Comments
(newest first)
We collected a few strategies for production-safe(r) testing in a short paper a while ago (http://testlab.sit.fraunhofer.de/downloads/Publications/tuerpe_eichler_Testing_production_systems_safely_-_Common_precautions_in_penetration_testing_TAIC_PART_2009.pdf). These strategies stem from our experience in penetration testing, which is often done in production environments and is inherently intrusive. My recommendation to Locked Down and Out would be to evaluate the risks of debugging and options for mitigation, to make a test plan, and discuss this plan with the pertinent stakeholders. He or she should also try to get management support for the idea that it is worthwhile to hunt down this bug. A document on the table will help stakeholders to make the objections raised more specific and to discuss how to handle them, and management support ensures that at some point a decision will be mada.
---
---


© 2018 ACM, Inc. All Rights Reserved.