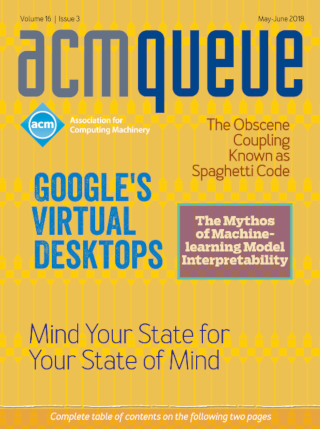 The May/June issue of acmqueue is out now

---

PDF
ITEM not available



Originally published in Queue vol. 9, no. 8—
see this item in the ACM Digital Library
---
Related:
Brendan Burns, Brian Grant, David Oppenheimer, Eric Brewer, John Wilkes - Borg, Omega, and Kubernetes
Lessons learned from three container-management systems over a decade
John R. Mashey - The Long Road to 64 Bits
"Double, double, toil and trouble"... Shakespeare's words (Macbeth, Act 4, Scene 1) often cover circumstances beyond his wildest dreams. Toil and trouble accompany major computing transitions, even when people plan ahead. To calibrate "tomorrow's legacy today," we should study "tomorrow's legacy yesterday." Much of tomorrow's software will still be driven by decades-old decisions. Past decisions have unanticipated side effects that last decades and can be difficult to undo.
---
Comments
(newest first)
I wasn't familiar with Bluespec, but it seems to address the technical issues.
Still, the larger issue of getting CS guys and hardware guys to agree on specs in the first place seems like a bigger problem.
---
---


© 2018 ACM, Inc. All Rights Reserved.