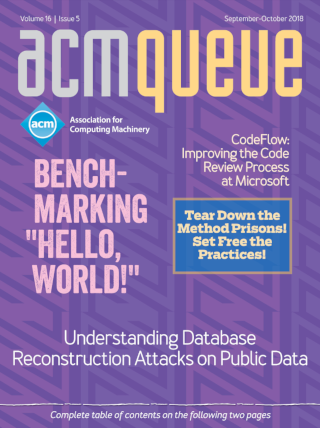 The September/October issue of acmqueue is out now

Subscribers and ACM Professional members login here

---

PDF
Error

526

Ray ID: 47c03f9c09d2220a • 2018-11-19 05:24:05 UTC
Invalid SSL certificate
Newark
Cloudflare
Working
deliverybot.acm.org
Host
Error
What happened?
The origin web server does not have a valid SSL certificate.
What can I do?
If you're a visitor of this website:
Please try again in a few minutes.
If you're the owner of this website:
The SSL certificate presented by the server did not pass validation. This could indicate an expired SSL certificate or a certificate that does not include the requested domain name. Please contact your hosting provider to ensure that an up-to-date and valid SSL certificate issued by a Certificate Authority is configured for this domain name on the origin server. Additional troubleshooting information here.



Originally published in Queue vol. 9, no. 5—
see this item in the ACM Digital Library
---
Related:
Graham Cormode - Data Sketching
The approximate approach is often faster and more efficient.
Heinrich Hartmann - Statistics for Engineers
Applying statistical techniques to operations data
Pat Helland - Immutability Changes Everything
We need it, we can afford it, and the time is now.
R. V. Guha, Dan Brickley, Steve MacBeth - Schema.org: Evolution of Structured Data on the Web
Big data makes common schemas even more necessary.
---
Comments
(newest first)
Pat,
Thanks for your follow-up and providing more insights ... now, I've started to contribute to what you call the 'new theory for data' in [1] and would love to hear back from you (maybe you find some time to comment directly on the post?) - but we can also take it off-line, if you prefer to ;)
Cheers, Michael
[1] http://webofdata.wordpress.com/2011/06/08/towards-networked-data/
---
Dear Spinnetti,
I'm glad you found this useful. Business Intelligence efforts within SQL have always been somewhat within the world I've described. They typically are examining a copy of the active database and, hence, are an artifact of the past. In addition, some of the most interesting problems in BI come when you try to smash together stuff from disparate systems and, typically, this requires a shoehorn or two and some of the data almost fits together. So, I do agree with you that most BI can be understood better when you realize it is different than classic SQL. It is, of course, amazingly useful...
Thanks for your kind words and for your interest! - Pat
---
Hey, Michael!
Thanks for your kind words. I really do have a ton of respect for the industry's SQL systems and agree with you that it is the constrained nature of the problem they address which empowers many of the amazing optimizations.
NoSQL is still getting its legs and, while we are seeing great progress and the ability to do things with scale and heterogeneity, I believe that this area still awaits new understandings to gain all the momentum it can have. That's why I ended the article with a plea for folks to contribute to finding new ways of formalizing data storage, access, and processing that include the stuff people are really doing in these systems. This is how progress usually happens, folks just do stuff, it has value, and then somebody helps explain it in a way that makes it easier to do it more effectively. I am looking forward to the community learning more and growing. Of course, along the way, we'll just DO stuff because we can make it work and solve our problems.
Thanks for your kindness and insightful comments on your blog. - Pat
---
Great stuff! We are embarking on a Business Intelligence activity here at work, and this provides good insight to assist in expectation setting.
---
Pat,
Thank you very much for this great article. I enjoyed reading it tremendously as well as it triggered some more thoughts about the topic [1] - KUTGW!
Cheers, Michael
[1] http://webofdata.wordpress.com/2011/05/29/tomorrows-problem-yesterdays-tools/
---
---


© 2018 ACM, Inc. All Rights Reserved.