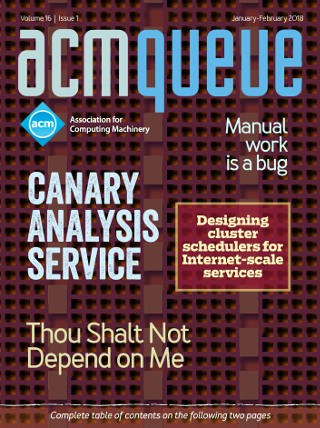 The January/February issue of acmqueue is out now
---
ITEM not available



Originally published in Queue vol. 9, no. 5—
see this item in the ACM Digital Library
---
Related:
Robert C. Seacord - Uninitialized Reads
Understanding the proposed revisions to the C language
Carlos Baquero, Nuno Preguiça - Why Logical Clocks are Easy
Sometimes all you need is the right language.
Erik Meijer, Kevin Millikin, Gilad Bracha - Spicing Up Dart with Side Effects
A set of extensions to the Dart programming language, designed to support asynchrony and generator functions
Dave Long - META II: Digital Vellum in the Digital Scriptorium
Revisiting Schorre's 1962 compiler-compiler
---
Comments
(newest first)
Lua is very very flexible, embed, extensible and debuggable script lang.
---
gosh is it 1975 already
---
Lua truly nailed embed-ablity and is a good example of programming with a goal in mind and creating an API that models reality of computer execution over friendliness-to-developers. I applaud its authors for that difficult and bold choice.
---
Lua is impressive, and far more ubiquitous than many realize. Thanks for the article.
---
---


© 2018 ACM, Inc. All Rights Reserved.