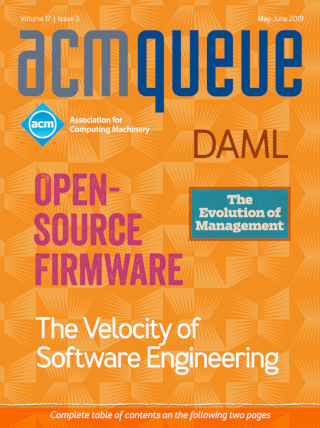 The May/June 2019 issue of acmqueue is out now

Subscribers and ACM Professional members login here

---

PDF
Error

526

Ray ID: 4fb3deed4abeccc6 • 2019-07-24 06:34:52 UTC
Invalid SSL certificate
Newark
Cloudflare
Working
deliverybot.acm.org
Host
Error
What happened?
The origin web server does not have a valid SSL certificate.
What can I do?
If you're a visitor of this website:
Please try again in a few minutes.
If you're the owner of this website:
The SSL certificate presented by the server did not pass validation. This could indicate an expired SSL certificate or a certificate that does not include the requested domain name. Please contact your hosting provider to ensure that an up-to-date and valid SSL certificate issued by a Certificate Authority is configured for this domain name on the origin server. Additional troubleshooting information here.



Originally published in Queue vol. 9, no. 4—
see this item in the ACM Digital Library
---
Related:
Stephen Johnson - Java in a Teacup
Programming Bluetooth-enabled devices using J2ME
- Streams and Standards
Don't believe me? Follow along… Mobile phones are everywhere. Everybody has one. Think about the last time you were on an airplane and the flight was delayed on the ground. Immediately after the dreaded announcement, you heard everyone reach for their phones and start dialing.
Fred Kitson - Mobile Media
Many future mobile applications are predicated on the existence of rich, interactive media services. The promise and challenge of such services is to provide applications under the most hostile conditions - and at low cost to a user community that has high expectations. Context-aware services require information about who, where, when, and what a user is doing and must be delivered in a timely manner with minimum latency. This article reveals some of the current state-of-the-art "magic" and the research challenges.
Bruce Zenel - Enterprise-Grade Wireless
We have been working in the wireless space in one form or another in excess of 10 years and have participated in every phase of its maturation process. We saw wireless progress from a toy technology before the dot-com boom, to something truly promising during the boom, only to be left wanting after the bubble when the technology was found to be not ready for prime time. Fortunately, it appears that we have finally reached the point where the technology and the enterprise's expectations have finally converged.
---
Comments
(newest first)
Nice content. I am trying to learn mobile app development. I have tried various mobile app development platforms such as phonegap Configure.IT, Telerik and various others. But as per features wise, I like Configure.IT. Here is the features in detail http://www.configure.it/features/mobile-app-configuration/
---
Wonderful article. I didn't know about PhoneGap. Fortunately for new developers sticking to one platform for a while is the easy early route. But it is interesting (and a bit daunting) to see the massive complexities that come into play if you really want to go cross platform, once you exit the warm cocoon of single platform support. It's funny how we go through this every time a new computing/communication industry springs into being. The Tower Of Babel still reigns supreme.
---
Assuming Pleomax's answer is correct, that means you can't count out native C for android as well. See the android NDK for examples.
However, you can see that the author mentions it as "required" skill sets (Note, not optional). You do not require C++ or C for android but you will need at minimum the harmony-flavored java skills.
The hardware is presented to the dalvik vm through a known api, so one could argue that this is the lowest bar for android developers.
---
On the topic of Web vs. Native, I've covered the blurry line in between in my article "Mobile Framework Smackdown", which compares the most popular web app frameworks such as Phone Gap, Sencha Touch, Titanium, and jQTouch and jQuery Mobile. http://dinosaurswithlaserz.com/2011/03/28/mobile-framework-throwdown/
Mobile web boilerplates, which package up current best practice methodology and fallbacks, should also be considered. The most well known boilerplate is the HTML5 Boilerplate and its Mobile iteration, although Andy Clarke has just released his own, 320 and Up. I've just written an article on this at http://dinosaurswithlaserz.com/2011/04/15/saved-by-the-mobile-web/
Hope this is helpful.
---
I would have liked to see a discussion of garbage collection and perceived latency, crucial for touch interfaces. Maybe that was implied in the "scrolling problem", it's not clear.
---
The language table is incorrect, iOS, Android and Windows Mobile support C++ development.
---
---


© 2019 ACM, Inc. All Rights Reserved.