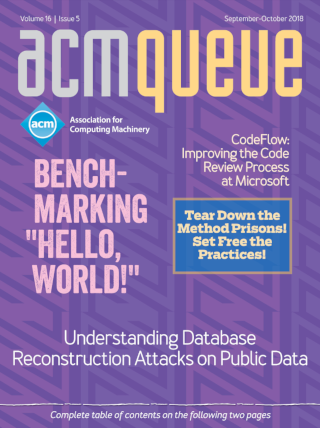 The September/October issue of acmqueue is out now

Subscribers and ACM Professional members login here

---

PDF
Error

526

Ray ID: 48a5df4a4eef21a4 • 2018-12-17 02:13:44 UTC
Invalid SSL certificate
Newark
Cloudflare
Working
deliverybot.acm.org
Host
Error
What happened?
The origin web server does not have a valid SSL certificate.
What can I do?
If you're a visitor of this website:
Please try again in a few minutes.
If you're the owner of this website:
The SSL certificate presented by the server did not pass validation. This could indicate an expired SSL certificate or a certificate that does not include the requested domain name. Please contact your hosting provider to ensure that an up-to-date and valid SSL certificate issued by a Certificate Authority is configured for this domain name on the origin server. Additional troubleshooting information here.



Originally published in Queue vol. 9, no. 3—
see this item in the ACM Digital Library
---
Related:
Simson Garfinkel, John M. Abowd, Christian Martindale - Understanding Database Reconstruction Attacks on Public Data
These attacks on statistical databases are no longer a theoretical danger.
Rich Bennett, Craig Callahan, Stacy Jones, Matt Levine, Merrill Miller, Andy Ozment - How to Live in a Post-Meltdown and -Spectre World
Learn from the past to prepare for the next battle.
Arvind Narayanan, Jeremy Clark - Bitcoin's Academic Pedigree
The concept of cryptocurrencies is built from forgotten ideas in research literature.
Geetanjali Sampemane - Internal Access Controls
Trust, but Verify
---
Comments
(newest first)
Weapons of Mass Distraction
I have exclusive access to early-release versions of this paper (not true), and there are many serious, yet easily avoided typos. This paper never had the luxury of being both publicly available and impossible to read at the same time.
** end sarcasm **
A core tenet of open source software and agile development, IMHO, is to release early and often in small increments right from the start. A justification for releasing early when others might deploy it publicly is to look at whats at risk. The updates and photos put on this service have arguably no value. Reading user records for an already encrypted password and email address is probably the most sensitive. The encrypted password has no value so that leave email addresses. A low-enough risk especially when compared to the benefits of getting the source code out to a community of software developers as fast and as early as possible to get development moving as quickly as possible.
Overall, this paper is a great writeup of common mistakes in writing rails code.
---
It's pretty safe to say that the Diaspora developers are (or at least were) pretty much novices when it comes to Rails development - they've made plenty of stupid mistakes which are easily avoidable - infact Rails makes it easy to avoid them!
For example, attr_accessible / attr_protected have been around for years and protect against mass-assignment - even MongoMapper (not part of Rails itself) has implemented them: http://mongomapper.com/documentation/plugins/accessible.html
When it comes to finding objects in the database, they can scope them to a particular user account using something simple like current_user.albums.find(params[:id]). Why they are even using 'find_by_id' instead of just 'find' (which effectively does the same thing and is the most common use) surprises me further.
Of course, since this article was written they may have corrected their mistakes. I certainly hope so because it's embarrassing to the Rails community.
---
Quote: "No amount of improving frameworks, however, will save programmers from mistakes such as forgetting to check authorization prior to destructive actions."
Not entirely true. A web framework based on capability URLs requires no authorization checks because the authorization is encapsulated in the unguessable URL itself. This is the power of combining designation with authorization. See the Waterken server for an example.
Of course, this approach has its own problems, mainly on the user end when interfacing with such URLs.
---
---


© 2018 ACM, Inc. All Rights Reserved.