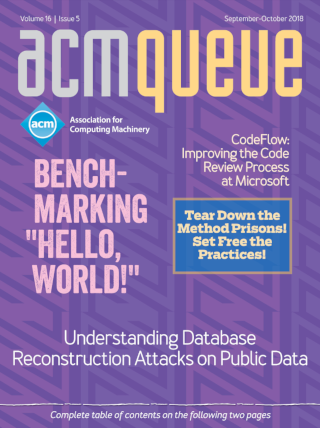 The September/October issue of acmqueue is out now

Subscribers and ACM Professional members login here

---

PDF
Error

526

Ray ID: 48b162aaefe856e7 • 2018-12-18 11:45:49 UTC
Invalid SSL certificate
Ashburn
Cloudflare
Working
deliverybot.acm.org
Host
Error
What happened?
The origin web server does not have a valid SSL certificate.
What can I do?
If you're a visitor of this website:
Please try again in a few minutes.
If you're the owner of this website:
The SSL certificate presented by the server did not pass validation. This could indicate an expired SSL certificate or a certificate that does not include the requested domain name. Please contact your hosting provider to ensure that an up-to-date and valid SSL certificate issued by a Certificate Authority is configured for this domain name on the origin server. Additional troubleshooting information here.



Originally published in Queue vol. 8, no. 10—
see this item in the ACM Digital Library
---
Related:
Graham Cormode - Data Sketching
The approximate approach is often faster and more efficient.
Heinrich Hartmann - Statistics for Engineers
Applying statistical techniques to operations data
Pat Helland - Immutability Changes Everything
We need it, we can afford it, and the time is now.
R. V. Guha, Dan Brickley, Steve MacBeth - Schema.org: Evolution of Structured Data on the Web
Big data makes common schemas even more necessary.
---
Comments
(newest first)
What about users who purchase Android apps through the Android Market. If they then switch phones to an Android phone without Android Market then they will not have access to those apps. Sorry, but that is lock-in :(
---
(cross-posted from the Buzz stream)
Brian and Jeremy: Excellent article. Illuminating indeed.
I would like to elaborate on data ownership challenges mentioned in the article. This is what I have been looking into recently, especially when it comes to Google App for Business.
In the Google Apps for Business use-case, I think there needs to be distinction made between the Data Custodian vs. Data Owner vs. Data User. Data Liberation, in its current form, clearly does not make a distinction between these roles. This worries Data Custodians and Owners in an enterprise setting, and right-fully so.
I have been working on to create a shim using Google Data APIs and OAuth to enforce these roles. However, as with any shim, there will be back-doors until these roles are addressed at the Google Data API level. I would like to see Google invest some time in this area.
Here are few things, if implemented at the API level, may calm the fears of the data custodians: 1) Controls to prevent mis-use of this over-reaching authorizations; 2) Granular policy controls 3) A view into detailed logs of API access AND Audit Reports; 4) Anomaly detection system.
Thanks, Saqib
---
Your second paragraph ends with "... if they don't have a means of removing their data." There is an ambiguity here between moving a copy to some other physical location or service, and deletion of the data without preservation of a copy anywhere else. I should think a serious and thoughtful customer would want to have both of these capabilities. Data are useless to an owner of data if he does not have prompt access to every single bit of his data. AND to a means of checking that he has such access. Such checking really cannot be done in a way that the user can believe in unless the user has a second copy of the whole body of data somewhere. How to create such a copy? This is certainly not a technically challenging problem, if the provider of the data storage facility is, in fact, supplying a legitimate service. Deleting data is also not a technical challenge, but might benefit from some careful design of management controls that would minimize the possibility of accidental invocation. Does the service offer recovery of old data from backups? How can a user verify his understanding of how this recovery from backup service works? These are trick questions that are intended to highlight just how problematic commodity cloud data storage service really is as a serious business. Do the people offering these services have any idea what they are doing? Really? I am reminded of "Fools rush in where Angels fear to tread."
---
An excellent article - one which I hope senior management at my university will read!
I have been running a one-man crusade against inappropriate use of proprietary products in the university environment, an environment which I was brought up to believe was an open and intellectually honest one. Increasingly, universities seem to be blinded by the "commercial-in-confidence" mantra which, although prompted by the rise of mal-use, does little to stop dishonest users, and everything to make life difficult for the honest user.
I am very attracted to the rather incongruous philosophy that more openness leads to greater trust - a philosophy that ultimately lies at the heart of all learning.
---
---


© 2018 ACM, Inc. All Rights Reserved.