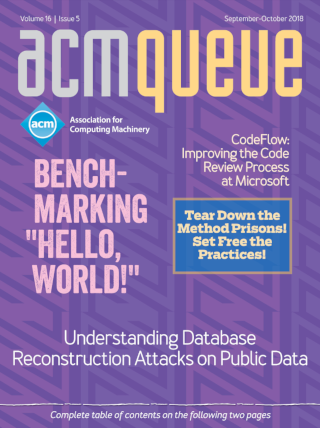 The September/October issue of acmqueue is out now

Subscribers and ACM Professional members login here

---

PDF
Error

526

Ray ID: 47c06d063cf0c5fa • 2018-11-19 05:55:05 UTC
Invalid SSL certificate
Newark
Cloudflare
Working
deliverybot.acm.org
Host
Error
What happened?
The origin web server does not have a valid SSL certificate.
What can I do?
If you're a visitor of this website:
Please try again in a few minutes.
If you're the owner of this website:
The SSL certificate presented by the server did not pass validation. This could indicate an expired SSL certificate or a certificate that does not include the requested domain name. Please contact your hosting provider to ensure that an up-to-date and valid SSL certificate issued by a Certificate Authority is configured for this domain name on the origin server. Additional troubleshooting information here.



Originally published in Queue vol. 8, no. 6—
see this item in the ACM Digital Library
---
Related:
Richard L. Sites - Benchmarking "Hello, World!"

Noor Mubeen - Workload Frequency Scaling Law - Derivation and Verification
Workload scalability has a cascade relation via the scale factor.
Theo Schlossnagle - Monitoring in a DevOps World
Perfect should never be the enemy of better.
Ulan Degenbaev, Jochen Eisinger, Manfred Ernst, Ross McIlroy, Hannes Payer - Idle-Time Garbage-Collection Scheduling
Taking advantage of idleness to reduce dropped frames and memory consumption
---
Comments
(newest first)
Displaying 10 most recent comments. Read the full list here
I really really enjoyed reading this article and I am in the process of attempting to implement a binary search tree based on a similar model, and in particular the remapping between the array store and the tree structure answered a question that I intuitively grasped but didn't have an image in my mind about how this problem of causing a page fault with every row below the first 4kb of the tree. I don't 100% get how the mapping translates to my intended application of a left-right sorted tree, exactly, but I will come up with it a lot more easily now I have seen this.
My whole direction in my current project was all about finding a way to exploit the far greater speed and far lower latency of CPU caches, and this is exactly demonstrating that my line of inquiry was correct.
---
skipped bath and reading this. This is intresting
---
So you reinvented the T-tree, plus some Straw Man graphs and some comments on how you're smarter than the entire CS field. Congrats?
---
Google "cache oblivious algorithms" for good theoretical treatment.
---
I often encounter the following error on a consistent basis upon visiting the famous shop network HSN.
--------------------------------------------------------------------------------
Error 503 Service Unavailable
Service Unavailable Guru Meditation:
XID: 1376938831
Varnish cache server
--------------------------------------------------------------------------------
There really is no reason to suspect that my experience encountering this error is related to a problem on my system because I do not maintain any conflicting configurations on my pc. No matter what browser I use, I still get this error. I've visited their site before with no problem, however it almost seems like now it is a regular occurrence to come across this error.
I have ample reason to believe this has to do with a problem on their website, specifically with regard to website maintenance, or lack there of...
Try telling HSN that, and you might just get a variety of responses depending upon whom you speak with, but you can rest assure that no matter whom it is at HSN, they're all experts...(Pun intended of course)...
---
It's rare to see this kind of hubris in a computer publication. But, oh well. When quantum computers become the norm, we'll see an article that Poul-Henning Kamp was doing it wrong.
---
buy more ram bros
---
I think some said "buy more ram" in the comment above, that wont be of much help as we are talking about an algorithm which minimises disk access as well as cache miss! Nice article.
---
Lots of people have been paying attention to memory hierarchy for a long time. I worked for SyncSort on IBM mainframe data sorting and manipulation utilities. I can assure you that every single execution of the SyncSort utility started with an analysis pass that included comparing the effective size of data key indices to the available cache reported by the processor, as well as comparing the available RAM to the total data set size, in order to tune the operation into the best number of iterations of the best sized chunks of data. In the universe, things do happen outside of one's personal knowledge.
---
An interesting comparison of Varnish, Apache Traffic Server (another proxy cache) and G-WAN (an application server with C scripts):
http://nbonvin.wordpress.com/2011/03/24/serving-small-static-files-which-server-to-use/
Apache Traffic Server is an HTTP proxy and cache server created by Inktomi, and distributed as a commercial product before Inktomi was acquired by Yahoo.
Yahoo says that it uses TS in to serve more than 30 Billion objects per day. They also say that TS is a "product of literally hundreds of developer-years".
---
Displaying 10 most recent comments. Read the full list here
---


© 2018 ACM, Inc. All Rights Reserved.