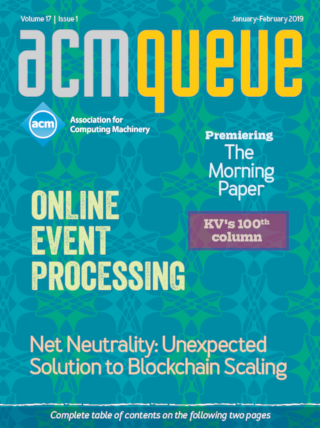 The January/February 2019 issue of acmqueue is out now

Subscribers and ACM Professional members login here

---
Item not available
---
Related:
David Crandall, Noah Snavely - Modeling People and Places with Internet Photo Collections
Understanding the world from the sea of online photos
Jeffrey Heer, Ben Shneiderman - Interactive Dynamics for Visual Analysis
A taxonomy of tools that support the fluent and flexible use of visualizations
Robert DeLine, Gina Venolia, Kael Rowan - Software Development with Code Maps
Could those ubiquitous hand-drawn code diagrams become a thing of the past?
Brendan Gregg - Visualizing System Latency
Heat maps are a unique and powerful way to visualize latency data. Explaining the results, however, is an ongoing challenge.
---
Comments
(newest first)
Mr. Rudahl, I was also looking for the same information but it seems, the information you are looking for (namely sample data and/or scripts) are directly available on the visualization tool website, Protovis at the following URL: http://vis.stanford.edu/protovis/
Look for the examples.
Cheers,
Skander.
---
The article (CACM June 2010 p 60) said that this address would contain further info about the topic of this article, includig (I suppose) sample data and/or scripts.
Am I looking in the wrong place?
---
---


© 2018 ACM, Inc. All Rights Reserved.