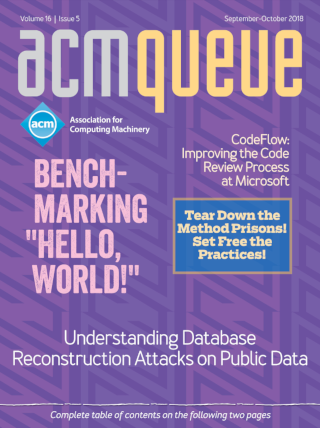 The September/October issue of acmqueue is out now

Subscribers and ACM Professional members login here

---

PDF
Error

526

Ray ID: 47ccec6b5a7dc5e2 • 2018-11-20 18:19:12 UTC
Invalid SSL certificate
Newark
Cloudflare
Working
deliverybot.acm.org
Host
Error
What happened?
The origin web server does not have a valid SSL certificate.
What can I do?
If you're a visitor of this website:
Please try again in a few minutes.
If you're the owner of this website:
The SSL certificate presented by the server did not pass validation. This could indicate an expired SSL certificate or a certificate that does not include the requested domain name. Please contact your hosting provider to ensure that an up-to-date and valid SSL certificate issued by a Certificate Authority is configured for this domain name on the origin server. Additional troubleshooting information here.



Originally published in Queue vol. 7, no. 11—
see this item in the ACM Digital Library
---

Follow Kode Vicious on Twitter


and Facebook



Have a question for Kode Vicious? E-mail him at [email protected]. If your question appears in his column, we'll send you a rare piece of authentic Queue memorabilia. We edit e-mails for style, length, and clarity.

---
Related:
J. C. Cannon, Marilee Byers - Compliance Deconstructed
The topic of compliance becomes increasingly complex each year. Dozens of regulatory requirements can affect a company's business processes. Moreover, these requirements are often vague and confusing. When those in charge of compliance are asked if their business processes are in compliance, it is understandably difficult for them to respond succinctly and with confidence. This article looks at how companies can deconstruct compliance, dealing with it in a systematic fashion and applying technology to automate compliance-related business processes. It also looks specifically at how Microsoft approaches compliance to SOX (Sarbanes-Oxley Act of 2002).
John Bostick - Box Their SOXes Off
Data is a precious resource for any large organization. The larger the organization, the more likely it will rely to some degree on third-party vendors and partners to help it manage and monitor its mission-critical data. In the wake of new regulations for public companies, such as Section 404 of SOX (Sarbanes-Oxley Act of 2002), the folks who run IT departments for Fortune 1000 companies have an ever-increasing need to know that when it comes to the 24/7/365 monitoring of their critical data transactions, they have business partners with well-planned and well-documented procedures.
Eric Allman - Complying with Compliance
"Hey, compliance is boring. Really, really boring. And besides, I work neither in the financial industry nor in health care. Why should I care about SOX and HIPAA?" Yep, you're absolutely right. You write payroll applications, or operating systems, or user interfaces, or (heaven forbid) e-mail servers. Why should you worry about compliance issues?
George W. Beeler, Dana Gardner - A Requirements Primer
Many software engineers and architects are exposed to compliance through the growing number of rules, regulations, and standards with which their employers must comply. Some of these requirements, such as HIPAA (Health Insurance Portabililty and Accountability Act), focus primarily on one industry, whereas others, such as SOX (Sarbanes-Oxley Act), span many industries. Some apply to only one country, while others cross national boundaries. To help navigate this often confusing world, Queue has assembled a short primer that provides background on four of the most important compliance challenges that organizations face today.
---
Comments
(newest first)
"If your notes runneth over" - for "runneth", a singular verb form, write "run". "whether or not what you thought was actually the case" - delete "or not".
---
George,
My condolences on the loss of your mother. Your family will be in our thoughts and prayers this week.
RJW
---
I'm currently involved in writing a standard, and the opportunities for ambiguity are enormous. Part of the problem determining how to have a standard that works across all implementations that also has a concrete description of it's behaviour under all circumstance. Unfortunately it can be difficult finding someone without our inherent biases that is interested in looking over it!
---
Not the same case, but some time ago I had to create some client code for a a server using a mostly unknown protocol, things went good at first since I was supporting a single vendor, once a new server implementation of the same protocol but different vendor came in the scene, things started going downhill... development took twice than expected =)
---
---


© 2018 ACM, Inc. All Rights Reserved.